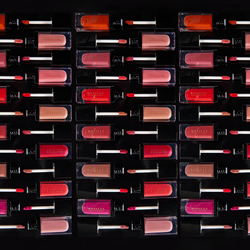 GREENSBORO, N.C. (PRWEB) October 22, 2020
You know what makeup trend never goes out of style? A great lip look! In fact, lipstick has been around longer than you might think. While Market America | SHOP.COM isn't quite old enough to know exactly who first made lipstick, we do know that as far back as prehistoric times, both men and women used various fruit and plant juices to mark their faces in religious ceremonies and to make themselves more attractive. The first manmade lipstick was made as a cosmetic tool for the wealthy women and men of ancient Mesopotamia, Indus Valley Region and Egypt. These first lipsticks were made from small red cactus-feeding scale insects, or cochineal insect pigments. While lipstick was finally developed into a perfumed, solid lip color during the Islamic Golden Age (800 A.D. – 1258 A.D.), it took the Industrial Revolution (1760 – 1840) to bring lipstick to the masses.
Did you know that lips do not have melanin, which means there is nothing protecting your pucker from UV rays, dry wind and other seasonal elements? Let's give credit where credit is due – lipstick can help keep your lips hydrated! For example, most lipsticks on the market today are conscientious about protecting your lips and preserving the natural state of your lips. Amongst the three new Motives lip lines, you will find avocado oil in the liquid lipsticks, vitamin E in the liquid lip glazes and Moringa butter in the cream lipsticks. Known for its ability to hydrate, Moringa butter comes from the oil of the seeds of Moringa oleifera, a tree native to India, in the cream lipstick line.
Whether it be a bold matte red or a casual nude gloss, most women have a variety of lip products in their beauty bag. That's why Market America | SHOP.COM is excited to give you three new reasons to work on that perfect pout with three new additions to their Motives® lipstick line. As always, each new line is paraben free. Also, Motives does not conduct or commission animal testing of any finished product.
Motives Liquid Lipstick is perfect for a long-lasting wear. Following the success of the THALIA X Motives Red Velvet Liquid Lipstick, Motives decided to launch a full line of these lipsticks because the formula was just that good. The velvety formula is infused with ingredients that not only give your lips some color, but also keeps them soft and hydrated — no more using liquid lipsticks that dry out your lips! Kiss proof, this long-wearing color won't budge and will set to a soft matte finish for a comfortable all-day wear. With twelve shades, you can create a look for every occasion. From a natural medium mauve to a deep cherry red with a hint of shimmer, there's a shade for you!
Next is the Motives Liquid Lip Glaze, full of shine without the hassle of sticky residue. This formula feels as good as it looks, gliding on effortlessly and leaving a pigmented, glossy color. Whether you want a little shine on your natural lips or want to add a little gloss over your favorite lipstick, these lip glazes are a great addition to any look. With eight dazzling shades, including a semi-sheer shimmer lilac, an earthy neutral shimmer plum, an everyday opaque red and more, these sheer and opaque glazes are perfect for any skin tone. Its moisturizing formula will keep your lips hydrated and smooth.
After Motives' limited-edition Euphoria Lipstick exceeded expectations, the team decided it was too good not to share. So, Motives is introducing Motives Cream Lipstick – a curated assortment of twelve everyday wearable colors – including a bubblegum pink, a bold poppy red, a daring magenta and more – you'll be ready for any occasion. Set to launch by the end of October 2020, the non-drying, comfortable-wear formula is so smooth you won't even notice you're wearing it. If you're looking for a pigmented lip look but don't want to commit to a permanent wear like a liquid lipstick, Motives Cream Lipstick is for you! Keep your lips hydrated all year long with colors perfect for any season. Click here to be one of the first to purchase one of the new Motives Cream Lipsticks coming soon!
Market America | SHOP.COM is a global product brokerage and internet marketing company that specializes in One-to-One Marketing and is the creator of The Shopping Annuity®.