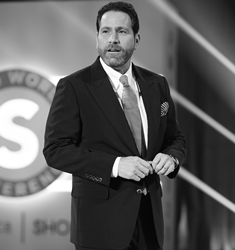 "The need for anticipatory thinking has never been more acute...failing to plan was planning to fail." Marc Ashley, President & COO of Market America Worldwide
GREENSBORO, N.C. (PRWEB) May 05, 2020
The recent global pandemic of COVID-19 has turned lives upside down and with that, the lives of many businesses. Stores shutting down in a blink of an eye and companies having to scramble to figure out how to make their systems work-from-home friendly have created a lot of concern. Some companies were just not built in a way that allows for employees to work away from location; some were, and they just might not have known it until now. Market America | SHOP.COM is one of the latter. On May 5 at 8:00 p.m. EDT, President & COO of Market America Worldwide Marc Ashley will address the world to discuss Part II of all facets COVID-19, operations around the world, the online Global Meeting, Training, and Seminar System (GMTSS), new product launches and community growth during the "new normal."
In his previous global discussion on March 31, Ashley gave an update regarding the company's plans during the COVID-19 pandemic. From around the world, thousands of its distributors, known as UnFranchise® Owners (UFOs) — people Ashley considers part of his Market America family — tuned in to hear Ashley's heartfelt presentation on the steps the company has taken to ensure its UFOs and customers stay safe and healthy. Ashley shared that Market America | SHOP.COM is considered an essential business by the U.S Department of Homeland Security. Nevertheless, the "new normal" to which the world is continuing to adjust requires a new type of business planning and implementation to succeed. From having to rapidly transition 90% of an employee base to work from home to relocating an entire distribution center, the company has had to face its share of hurdles — as many essential businesses will, if they have not already.
Ashley discussed how, in the company's 28 years in business, "the need for anticipatory thinking has never been more acute...failing to plan was planning to fail." As a company with operations, employees and customers all over the globe, adjusting to a worldwide epidemic was definitely a challenge. According to Ashley, what was essential in this preparation was the company's Business Continuity Plan and making sure they "were able to execute in each country seamlessly" despite the pandemic resulting in different guidelines being created by each of the countries in which Market America does business.
In fact, curve balls were tossed left and right and at all hours of the day, but Market America | SHOP.COM proceeded to knock all of them out of the park.
On March 16, for example, the government of Malaysia shut down all of that country's nonessential businesses; Market America had to move the work of the distribution center it operates in Malaysia to a third-party center. Ashley shared that in just 48 hours the team flawlessly executed moving a whole distribution center — but the chaos did not end there. The next morning Ashley received the news that in Monterey, Calif., where the company's SHOP.COM offices are located, the local government had implemented a "shelter in home" order starting at 5:00 p.m. that day, giving the company less than one day to equip all of its Monterey employees with the ability to work from home.
"Due to the incredible leadership of the many involved, by the next morning all SHOP.COM staff was working safely from home at peak performance with no interruptions in service," said Ashley.
Overall, with facilities in eight countries including the U.S., Ashley said the company seamlessly moved 90% of its employees to work from home — some of which was done on very short notice — without impacting any customer product shipment. Ashley attributes much of this success to the support of Market America | SHOP.COM employees all over the world.
"In our continuity plan we were able to execute in each country seamlessly because not only was the U.S. supporting all of our eight markets, but our other markets were supporting those markets. So, everyone was supporting each other; whatever it took. I've never seen people and companies band together like I've seen them do during this pandemic," said Ashley.
According to Ashley, the curve balls didn't stop flying, but Market America | SHOP.COM's owners and executive team continued to prove how the company was built for tough times. During Ashley's March 31 presentation, he announced that Market America | SHOP.COM is now providing a new online Global Meeting, Training, and Seminar System (GMTSS). The company has also partnered with Zoom to offer its UFOs a significant discount, giving them access to all of the essential features of the Zoom platform as well as the ability to attend more of the seminars through its GMTSS program, leaving no one behind in the company's transition.
With stay-at-home orders rolling in across the country, many U.S. states have mandated the shutdown of most or all nonessential businesses. Market America is classified an "essential business" by the U.S. Department of Homeland Security because it supplies products directly to consumers. Many products being sold by companies and individuals across the world, such as sanitizing and cleaning products and dietary supplements, have been flying off the shelves due to the growth in demand. With that, a lot of companies are beginning to price gouge, but Market America has made a promise to keep its prices at their original affordable level because of its commitment to customer loyalty as well as health and safety. It even has a disinfectant that meets the EPA criteria for use against COVID-19. If that's not enough commitment to its customers and UFOs, the company also has built a product recommendation list that provides customers with product options on each product page when the current product selected is being restocked. This recommendation list is not focused on pricing but is overseen by Dr. Deedra Mason, Director of Clinical Education & Research for Market America | SHOP.COM, who evaluates the product out of stock and considers if any other Market America-exclusive products can provide the same or similar supplementation that the online shopper may want to consider.
Market America | SHOP.COM has always displayed its concern for the health and safety of its employees, UFOs and customers. This is even more evident now with the implementations initiated at a time when safeguarding health and safety have never been more important. As Ashley discussed, we've seen a number of large and successful businesses shut down because of the safety concerns regarding the pandemic, but that unfortunately compromises the livelihood of many employees. With 30 million people filing for unemployment to date and with economists forecasting a possible peak U.S. unemployment rate as high as 30%, Market America wanted to ensure its employees and family stay healthy and safe while also guaranteeing their jobs and supporting their well-being. To do this took endless hours of planning, but the company prevailed: Ashley ensured that "we will not be penny wise and dollar foolish; whatever amount of money we have to spend for health and safety, we will do it."
Some of the many steps Market America is taking to ensure the safety of its employees, UFOs and customers include ramping up cleaning services throughout its physical locations; for example, at its distribution centers, all distribution staff members wear gloves along with vigorously washing their hands, employee temperatures are checked regularly, and much more. Additionally, most of the company's office employees have seamlessly transitioned to working from home and have even been provided with a telehealth clinic, making sure no one is left out.
Few times will so seriously test the true success and passion behind a company as has this time in world history. Market America | SHOP.COM has risen to this challenge and will continue to do so.
Register Now for Marc Ashley's Part II of All Facets COVID-19