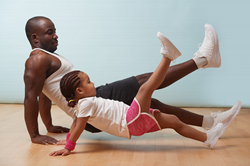 GREENSBORO, N.C. (PRWEB) June 15, 2020
No matter your relationship with exercise, social distancing will eventually make us all a little stir-crazy. With public fitness centers and gyms still closed or slowly reopening, we are all in need of ways to stay active while we keep our distance from the public. Here are five ways to develop a "quarantine exercise" plan to make sure you're staying fit!
1. Stick to your routine First things first, being locked up at home can make you want to deter from your normal work week routine but that's the last thing you need when trying to stay active. Okay. So it's been a few months and you have traded in your business casual for sweats, leggings or shorts and whatever t-shirt is clean. You can still get back to your regular workday routine by making sure to get up at the same time every day and be mindful of your habits. Take regular breaks from your work or Netflix binging and factor in 30 minutes a day dedicated to being active. Whether it's going on a walk or following an at home workout, make sure you're moving!
2. Try an at-home workout Fitness gurus have noticed that we're all in the same boat and are flooding the internet with more at home workouts. There are thousands, if not more, of free at home workout videos on the internet that require little to no equipment. No matter your workout type preference such as yoga, Pilates, body weight exercises, and more, there's an online option for you. Check out this list of online platforms to browse that has every workout type covered or peruse these diet and exercise programs that you can download for free!
3. Go for a walk As we mentioned, there most likely will come a time when you're itching to leave the house. Going for a walk can not only help you feel less stir crazy, but it's also a great way to get your exercise in. If you're unsure on how to practice social distancing outside of your home, this article will answer your questions. For peace of mind, reach out to your primary healthcare physician to determine what you should be mindful of and what length of time walking is best suited for your overall wellbeing.
4. High-Intensity Interval Training If you've never tried it before, HIIT workouts are a great way to get in a quick and effective workout anywhere. You can try it in the comfort of your home, or outside on a bright and sunny day. Check out this list of 3 Quick HIIT Workouts for Beginners for some inspiration.
5. Try Healthy Meals You've probably heard the saying "Abs are made in the kitchen." It's important to remember that while staying active helps, eating healthy is a guaranteed way to maintain your fitness goals. Check out these free healthy recipes or this list of healthy groceries to have in your pantry during quarantine.
This article is provided by Market America | SHOP.COM, a product brokerage and Internet marketing company that specializes in One-to-One-Marketing.