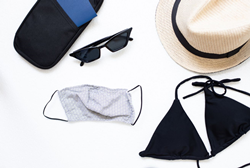 GREENSBORO, N.C. (PRWEB) June 18, 2020
With the first day of summer not far from our reach, most of us are wondering how we are supposed to make the best of our time this summer while also practicing social distancing. The "new normal" has added a lot of stress to our lives so it's safe to say we're looking forward to some fun in the sun because, hey, we deserve it! Thankfully, we've reached a point where many states are slowly reopening, allowing us to go back to a semi-normal life. With our wellbeing in mind, most businesses have taken on extra precautions to make sure their customers are properly social distancing. That means that your typical summer plans may not look exactly the same, but that doesn't mean it won't be possible to enjoy yourself! Here are four smart and simple steps to make the most of your summer.
Step 1: Be aware of your local area's guidelines to reopening. While it will vary state to state, this article will provide you with up-to-date information on what services are open in each state. Overall, most states are beginning to reopen businesses with social distancing in mind. For example, steps such as restaurants and retail stores allowing fewer customers at once and workers and customers are required to wear masks are being taken to ensure that they are taking as many precautions as possible to prevent the spread of the virus while keeping businesses open.
Step 2: Recognize what level of social distancing you are comfortable with. For example, some may still want to stay at home because they are not yet comfortable being back in public which is completely valid. Others may be ready to go back out but aren't sure where to start. If you aren't sure, you can check the COVID-19 Social Distancing Scoreboard or what some call the "social distancing grades" that displays the amount of activity in each area and compares the area's activity pre-COVID-19 to current activity. This way, you can know the level of activity in your area and use that to gauge how comfortable you are with that level of activity.
Step 3: Get ready for some fun! If you've decided that you're ready to take on the summer with social distancing in mind, there are plenty of options out there. Whether it means packing up and heading to the beach, or going back to your favorite restaurant, do what you are comfortable with. For example, even though most establishments are following the CDC's guidelines for social distancing, such as making sure their customers are six feet apart, restaurants with outdoor seating may feel less crowded. More open areas such as the beach also make it easier to make sure you are staying six feet apart from others.
Step 4: If you're headed to the beach or your favorite outdoor summer location don't forget to make sure you're stocked with all the summer skincare essentials as well. Check out Cellular Laboratories® De-Aging Sunscreen Broad Spectrum SPF 50+ if you're going somewhere like the beach where you will be in direct sunlight all day. If you're just going out and about Cellular Laboratories® De-Aging Day Creme SPF 20 is perfect for everyday wear. If you're on the go looking for a travel-friendly skincare kit, try the Skintelligence® Travel Kit that has all the skincare products you would need in a compact size at an affordable price! Whether you're ready to take on summer, or content with staying at home, I hope these steps help in your decision!
Market America | SHOP.COM is a global product brokerage & internet marketing company that specializes in one-to-one marketing.