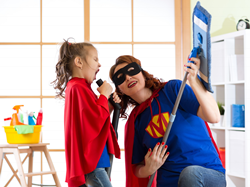 GREENSBORO, N.C. (PRWEB) July 23, 2020
Summertime typically means the kids are at home all day, leaving many families to figure out how they'll entertain everyone until school starts back in the fall. That means summer camp, babysitters, sports, and more — but this summer looks a little different. Since kids have been home from school the past few months and a lot of people are working from home, a lot of us have probably already gone through our list of productive and exciting things to keep us and the little ones busy. Based on how many days, weeks or months you and your family have been stuck at home, every day may start to feel like another day with nothing to do, especially if you're balancing work with taking care of the kids.
With the usual summer activities put on hold, families and parents are now looking for anything that could pass the time and not involve sitting on the couch all day. Parents might be feeling the pressure on top of their many duties to be the new at-home camp counselors, babysitters and entertainers, and this is probably increasing stress for many. Worry no longer, because Market America | SHOP.COM is here to help with a few ideas on how you can have a productive and fun summer with your family!
1. Wash Your Car (Water + Kids = Fun)
Public car washes can get pricey, and honestly a little overwhelming. Choosing between what feels like far too many options. Expensive and special soaps and shines. Waiting for a vacuum to be available. Even finding that you left your spare change on the dresser to pay for the car wash. It all seems like way too much hassle. So, let's switch it up!
All you need is a hose, bucket, cloth and the Autoworks™ Car Wash Promo Pack and you'll be set to have fun with the family while giving your car some TLC. The Autoworks Car Wash Promo Pack is great because it includes everything you need for an easy at-home wash: Exterior Car Wash, Shimmering Polish, and Tire and Wheel Cleaner, bundled together at an affordable price. It's also packed with benefits! For example, it doesn't contain acids or alkali that strip wax and dry out paint, it rinses clean with a streak-free finish, it softens minerals in the water to reduce water-spotting, it protects against scratching, it's gentle on paint and won't damage clear coats, and much more. With most at-home car wash adventures, you have to buy all three of these products separately, which can add up. Grab the kids and cool down with some soapy summer fun!
2. Mommy and Me Makeover and Photoshoot
It's no secret that recently most of us haven't been able to get dressed up to go out for anything more than picking up groceries or taking out the trash. In fact, pajamas or T-shirts and leggings are totally what's hot in at-home fashion. The "mommy and me" makeover and photoshoot gives us the perfect low-cost or no-cost activity for glamming up at home! Who doesn't like to look great and have fun doing it? Why not get all dolled up to have a tea-time photoshoot with your little ones?
Raid the closets and let everyone go full glam for the tea party of a lifetime! You can even get creative with it; just grab a yellow shirt and yellow hat and pop some red on the cheeks and nose and you've got an at-home Pikachu costume. The best part is you probably have everything you need for this activity — clothes, cosmetics and a smartphone. If you're looking for a new addition to your makeup collection, check out the new THALIA X Motives® Collection. It features an eye and cheek palette full of fun and vibrant colors and a red velvet liquid lipstick that once applied will give you the perfect pout … vivacious and bold!
3. Meditation and Yoga With the Kids
There's something to be said for spending a bit of time practicing yoga or meditation to let your body naturally turn down the stress, while also having fun with the kids. Check out this article on ideas to get your little ones into yoga, or this video for a more visual introduction! Not to mention that there are more benefits to yoga both on and off the mat. From promoting positive body image and mindful eating to boosting weight loss and management and enhancing cardiorespiratory fitness, yoga has been proven to have both physical and mental advantages. For example, it promotes strength and flexibility, and it's also a great way to become more mindful and get in tune with your body and mind.
4. Go on a Cleaning Adventure
Wouldn't it be nice to have a cleaner who would come to your home and tidy up once a week? Well, if that sounds far-fetched, you may already have your best little helpers under your roof! A lot of little ones under the age of 10 enjoy helping out. Present the task at hand as a game that requires talent that only their helping hands can provide. Instead of saying, "We have to …" consider saying excitedly, "Let's tame this jungle of a house today!" From cleaning the sliding glass doors to helping carry some of the folded laundry back to where it belongs, you're accomplishing more than just a clean home. You're helping your kids experience what it feels like to accomplish a task and see the results for themselves.
If you're stocked up on cleaning products, then get to it with your little helpers! If you're running low, check out Snap™ All-Purpose Natural Concentrate, a highly versatile cleaner that's gentle on the hands as well as environmentally friendly. From upholstery to countertops, there's not much it can't do. If you're looking for a cleaner and disinfectant, check out Snap II Cleaner Disinfectant — and enter your email to be notified when it is back in stock, because you won't want to miss out! It's been added to the EPA's list of Disinfectants for Use Against SARS-CoV-2, the cause of COVID-19. You can also check out the Snap Pak, which includes a collection of essential cleaners, detergents and accessories for your home.
5. Bathe the Pets (And Possibly The Kids)
If you're a pet owner, you know that nice summer weather means more outdoor time, which unfortunately also means more messes to be made — especially if your furry friends love water and mud. Thankfully, bathing your pup can become an affordable family-friendly activity! Check out PetHealth™ Hypoallergenic Shampoo, perfect for any dog because of its plant-based ingredients and non-irritating qualities. Also be sure to check out this list of dangerous ingredients that you should watch out for in your dog shampoos, otherwise, grab your favorite pet shampoo and start scrubbing! If you're more of a cat person, learn about the why's and how's of cat-bathing before you jump to it. Even if bathing day doesn't go as planned, we're sure there will be plenty of laughter and fun to come out of it!
Also, here is a list of 11 easy kid-friendly activities that only require what you already have at home, or a quick run to your local store:
6. Chalk Games
7. Bubble Games
8.Card Games
9. Easy Birdhouse Crafting (using recycled milk cartons!)
10. Easy Floor Maze
11. DIY Slime
12. Kid Friendly Science Experiments
13. Toilet Paper Roll Crafts
14. At-Home Treasure Hunt
15. At-Home Obstacle Course
16. Lunch Doodles with Mo Willems
Finally, don't let the stress of a stay-at-home summer give you too much grief! Remember, parenting can be chaotic, stressful and overwhelming at times. More than anything else, find time for yourself every day — even if it's just 15 to 30 minutes — because you matter. Taking care of yourself means you'll be able to take care of your family.
So, what if the kids are spending more time watching TV? As long as the programming is age-appropriate, don't beat yourself up when you know they're healthy and safe. Take time to rest, read a book, listen to music or give yourself a daily break by doing something that makes you happy. We all need time for ourselves, now more than ever. Taking care of yourself has to be a daily priority. Don't feel like you have to be a superhero because, for the most part, kids are happiest with any simple activity as long as love and attention come along with it. We hope this list brings you some inspiration and peace of mind!
Market America | SHOP.COM is a global product brokerage and internet marketing company that specializes in one-to-one marketing and is the creator of The Shopping Annuity®.