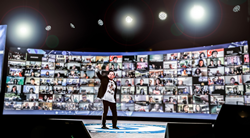 "Wow, this is just unbelievable. You know, this really is a magic moment – a historic moment. With your belief and by leveraging technology, our global community was able to come together from all around the world, even though we were physically separated – we are together strong! ." JR Ridinger.
GREENSBORO, N.C. (PRWEB) October 26, 2020
Thousands of Market America | SHOP.COM global independent distributors (known as "UnFranchise® Owners") recognized this year's Market America | SHOP.COM 2020 International Convention (#MAIC2020) as one of the most successful and informative events in the company's nearly 30-year history. Through the power of people and by pioneering today's virtual technology, tens of thousands of entrepreneurs around the world were introduced to the proven business platform – the UnFranchise Business and the Shopping Annuity® -- that offers individuals the ability to earn supplemental income. To bring every speaker, breakout session and all of the revolutionary elements of MAIC 2020 to life during this three-day event and into thousands of homes and watch parties across the globe, MAIC used dozens of large monitors, a 14-foot by 40-foot curved screen, six projection screens and more than 100 laptops, which, among myriad capabilities, allowed audience members the exclusive ability to interact with certain speakers while they were on stage presenting. Market America | SHOP.COM's top leadership took the stage at the Steven Tanger Center for the Performing Arts in downtown Greensboro, North Carolina that included a worldwide, virtual audience in the tens of thousands.
On Day One (Friday, September 11th), Co-Founder and Senior Executive Vice President of Market America | SHOP.COM, Motives® cosmetics founder and beauty and fashion icon, Loren Ridinger, opened this year's event with a touching and impactful message for all global attendees continuing to build their own business during a global pandemic. "Community is at the heart of everything we do at Market America | SHOP.COM. Our first priority is the health and safety of our Market America | SHOP.COM worldwide community as we navigate through COVID-19 and the new normal. And although we are unable to gather here in person, today, it's very exciting to be able to transform our convention, this year, into an all-encompassing, interactive experience – one of the biggest and best online conventions ever," said Ridinger.
Next, President & COO of Market America Worldwide, Marc Ashley, spent not one but two days introducing a multitude of groundbreaking products. "Just this past March, I expressed to our marketing teams, our merchandising teams, our product development team, our scientists and our doctors that we have got to focus on products that people need now. So, forget what you were thinking about coming out with before March. We've got to think about coming out quickly with great, quality products, backed by science and clinical studies that are relevant to what is going on now," said Ashley.
Some of these new products introduced include, Immunitea, not just an average cup of tea but one that supports the body's natural immune response and promotes mental clarity, DNA Miracles Isotonix® Vision, to help combat the more than thirteen hours a day school-age children are spending in front of a mobile phone, tablet or computer screen as well as Prime Sleep, a new sleep aid supplement to help adults support sleep quality.*
Also, adding to the unprecedented success of the company's groundbreaking Isotonix® Astaxanthin product, a powerful antioxidant supplement from the only company in the world providing Astaxanthin in an isotonic delivery system, Marc Ashley introduced two new skincare products that are also topical Astaxanthin treatments – Lumière de Vie® Renewal Hand & Body Crème, for a total body repair, and Lumière de Vie® Renewal Gelée, to help reduce the appearance of fine lines and wrinkles, provide antioxidant protection and intensely moisturize for refreshingly hydrated skin.
Further, Ashley introduced the first of many trial-size product samples at MAIC 2020, along with an exclusive UnFranchise Marketing App. This app acts as each UnFranchise Owner's personal marketing assistant by tracking trial-size samples sent to customers and prospects, automatically sending follow up messages, providing alerts when customers open up messages, allowing UnFranchise Owners to share product information via email, text and social media and so much more.
Following a multitude of riveting and informative presentations by corporate team members, on Sunday, September 13th, with social media buzzing around the world as Loren Ridinger took the stage at MAIC 2020, she told attendees that she and Founder, Chairman & CEO, JR Ridinger were here together to work on their brains.
"Sometimes, you don't give yourself enough credit. You don't see your hidden talents. You don't see your special gifts but every single one of you have them. You all have everything you need right now to do this business. You are smarter than you realize. You have everything you need inside of you to make this business happen for you – for you to transform your life. You just have to believe it. You never get what you deserve because you never programmed your brain to believe and accept it. You are worthy and capable -- say it a million times until you believe it! Step out of your comfort zone already," said Ridinger.
The number of innovative new cosmetics and skincare product announcements at MAIC 2020 was like no other event before. Motives introduced a plethora of new beauty products including the new 19-shade foundation sticks, available individually or in bundles to provide beauty lovers their concealer, highlighter, contour and foundation all in one bundle. Then, not one, not two but three individual lipstick lines were introduced including Motives Creamy Lipsticks in 12 highly-pigmented shades, Motives Liquid Lipsticks in 12 long-lasting shades and Motives Liquid Lip Glaze in eight dazzling shades. Among four new palettes, including one for contouring, highlighting and blush, attendees were given a sneak peek of Thalia's next must-have palette called "Besos," which is set to release around the holidays. Further, to the excitement and delight of all global attendees, Lumiere de Vie and Lumiere de Vie Hommes combined introduced a total of nine must-have skincare products – ranging from sculpting, toning and moisturizing products to exfoliators to reduce the appearance of unwanted dimpling on stubborn areas like the thighs, stomach, arms and more.
A stellar array of celebrity guests and close friends of the Ridingers took part in International Convention via video. Just a few of this year's celebrity guests/speakers included actress, singer, dancer, fashion designer, executive producer and businesswoman, Jennifer Lopez; Academy Award winning actor, singer and comedian Jamie Foxx; American DJ, record executive, record producer, author, and media personality, DJ Khaled; musician, singer, songwriter, actress and philanthropist, Alicia Keys; American hip hop recording artist, DJ, record producer, art collector, and entrepreneur, Swizz Beatz; American professional basketball player for the Portland Trail Blazers, Carmelo Anthony; American actress, producer, director, activist, and businesswoman, Eva Longoria; singer, songwriter, producer, actress, entrepreneur and one of the most successful and influential recording artists worldwide, Thalia and multiple Grammy and Latin Grammy Award Winner, Spanish musician, singer and composer, Alejandro Sanz! MAIC corporate speakers included NBA Hall-of-Famer, Scottie Pippen; Grammy-nominated artist and entrepreneur Joseph "Fat Joe" Cartagena, the company's President of Urban and Latino Development; and actress, author and entrepreneur, La La Anthony. Both Fat Joe and Scottie appeared live via video at the event.
Previous events have been attended by superstars Serena Williams, Kim Kardashian, Khloe Kardashian, Gloria and Emilio Estefan, Tony Romo, Paulina Rubio and Marc Anthony, among many others.
Finally, closing the three-day virtual convention, JR Ridinger provided example after example of tangible ways entrepreneurs can build a business through the UnFranchise Business and the Shopping Annuity®. To be successful, Ridinger said, "you just need to be brainwashed. Someone told me that I was brainwashed and at first, I was offended. But then I thought about it and realized this person was right. So, I went back to this person and said – I'm brainwashed to be successful. I'm brainwashed to be free. I'm brainwashed to be happy. I'm brainwashed to help other people be successful, happy and free," said Ridinger.
"Wow, this is just unbelievable. You know, this really is a magic moment – a historic moment. With your belief and by leveraging technology, our global community was able to come together from all around the world, even though we were physically separated – we are together strong! I want to thank you for that. It's your belief and your commitment that allows us to go on and continue to succeed. This has been a tremendous success, so thank you!" continued Ridinger.
About Market America | SHOP.COM
Market America is a global product brokerage and internet marketing company that specializes in one-to-one marketing and is the creator of The Shopping Annuity. Its mission is to provide a robust business system for entrepreneurs, while providing consumers a better way to shop. Headquartered in Greensboro, NC and with locations in eight countries, including the US, Market America was founded in 1992 by Chairman and CEO JR Ridinger and has generated over $9 billion in accumulated sales. Through the company's primary shopping website, SHOP.COM, consumers have access to approximately 300 million products, including Market America exclusive brands and thousands of top retail brands. SHOP.COM ranks 11th in Newsweek Magazine's 2020 Best Online Shops, #42 on Digital Commerce 360's (formerly Internet Retailer) 2020 Top 100 Online Marketplaces, #67 in Digital Commerce 360's (formerly Internet Retailer) 2020 Top 1,000 Online Retailers, #12 in the 2019 Internet Retailer Primary Merchandise Category Top 500, #96 in the 2018 Internet Retailer Asia 500 and #18 in 2017's Internet Retailer Mobile 500. The company is also a two-time winner of the Better Business Bureau's Torch Award for Marketplace Ethics and received 2019's Triad Business Journal's "Fast 50" award as one of the top privately-held companies for sustained growth, driving the area's economy, marking the 14th time the company has received this recognition. Market America has also been named on Grant Thornton's North Carolina 100® (NC 100) ranking of the state's largest private companies by revenue 14 consecutive years. By combining Market America's entrepreneurial business model with SHOP.COM's powerful comparative shopping engine, Cashback Program, Hot Deals, SHOPBuddy® Express Pay check out, social shopping integration and countless other features, the company has become the ultimate online shopping destination.
For more information please visit http://www.marketamerica.com
*These statements have not been evaluated by the Food and Drug Administration. This product(s) is not intended to diagnose, treat, cure or prevent any disease.