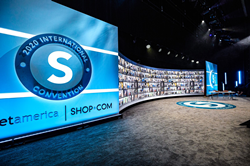 We're excited to have the opportunity to host this massive online event and can't wait for everyone to see and experience what we have in store. We may not be physically together at this event but we know our UnFranchise Owners are going to love this online interactive experience! JR Ridinger
GREENSBORO, N.C. (PRWEB) September 10, 2020
From September 11th to September 13th, thousands of entrepreneurs from around the world will have exclusive access to Market America | SHOP.COM's annual International Convention (#MAIC2020) as never before. To ensure the safety of all attendees from around the world, this year's MAIC in Greensboro, North Carolina is adhering to all government and state guidelines, as it relates to the global pandemic, and is holding its first ever virtual event with tens of thousands of people tuning in from around the world from their own homes or from small MAIC watch parties. Truly extraordinary is the amount of technology being poured into this year's International Convention, including but not limited to the company's ability to pioneer technology by utilizing ZOOM's video conferencing software platform and taking it to an entirely new level of service. To give this some context, traditionally, if a virtual ticket-holder wanted access to every speaker and breakout session during a 3-day event, this attendee would have received an email from ZOOM for each individual speaker and breakout session — in this case, those attending MAIC 2020 could have received anywhere from 10 to 20 emails each day of a 3-day event! Noting this, Market America | SHOP.COM's IT team jumped into action to solve this dilemma by adding on to ZOOM's current offerings and ensuring that each attendee will only receive one email containing all uniquely-coded links for each specific ticketholder to the sessions that this attendee purchased for the entire event! Further, to bring every speaker, breakout session and all of the revolutionary elements of MAIC 2020 to life in thousands of homes and watch parties across the globe, MAIC will be using dozens of large monitors, a 14-foot by 40-foot curved screen, six projection screens and more than 100 laptops, which, among so many capabilities, will allow various audience members the exclusive ability to interact with certain speakers while they are on stage presenting. Meanwhile the entire virtual audience from around the world will have access to real-time translation and closed-captioning, as well as being able to visit a multitude of virtual product booths that provide detailed information on an impressive number of new health and wellness, beauty, skincare and weight management products. With this combination of user focused technology, Market America | SHOP.COM is pioneering the way to deliver the ultimate online event experience for MAIC 2020, while raising the bar for other virtual events to follow from anywhere around the world.
The continued success of the Shopping Annuity® and the UnFranchise Business -- the company's signature program to convert existing spending into earning by enabling smart shoppers to convert money they already spend on everyday purchases into a steady stream of ongoing income – will be the primary focus at International Convention.
MAIC 2020 attendees will get an exclusive first virtual look at some of the hottest new Market America products launching throughout the remainder of 2020 plus a new comprehensive and turnkey product sample marketing platform and mobile app that allows global independent distributors (known as "UnFranchise® Owners"), the ability to introduce sample-sized products to their current and prospective customers to stimulate knowledge of and interest in them.
Adding to the unprecedented success of the company's groundbreaking Isotonix® Astaxanthin product, a powerful antioxidant and anti-inflammatory supplement from the only company in the world providing Astaxanthin in an isotonic delivery system, Marc Ashley, President & COO, will be announcing new products that include Astaxanthin to supply even more substantial health benefits to adults. Expect new products introduced at MAIC to make an impact in the daily lives of children attending school at home, while others offer additional benefits related to the adult immune system as well as seasonal products perfectly timed for the fall and winter.
On Sunday, September 13th, Loren Ridinger, Senior Executive Vice President (also the founder of Motives® cosmetics) will take the stage to engage, enthrall and truly empower every MAIC attendee from all corners of the globe to fully define their WHY. Loren will be joined onstage via Zoom by singer, songwriter, producer, actress, entrepreneur and one of the most successful and influential recording artists worldwide, Thalia, and actress, author and entrepreneur, La La Anthony! Speaking of beauty, expect to be excited and inspired by the number of innovative new cosmetics and skincare product announcements at MAIC 2020, including foundation sticks in 19 individual shades, sold individually as well as in bundles, providing beauty lovers their concealer, highlighter, contour and foundation all in one bundle. Then, not one, not two but three individual lip lines are being introduced at MAIC 2020! Due to the high quality and high demand of new Motives lip products introduced at MAIC 2020, expect an explosion of beautiful color to bring that perfect pout to life with every fashion need you have every day of the year and expect to have your mind blown when both Lumiere de Vie and Lumiere de Vie Hommes introduce a total of nine must-have skincare products – ranging from sculpting, toning and moisturizing products to exfoliating to reduce the appearance of unwanted dimpling on stubborn areas like thighs, stomach, arms, etc….
As always, a stellar array of celebrity guests and close friends of the Ridingers will take part in International Convention via video. This year's celebrity guests/speakers include but are not limited to Academy Award winning actor, singer and comedian Jamie Foxx; American DJ, record executive, record producer, author, and media personality, DJ Khaled; American professional basketball player for the Portland Trail Blazers, Carmelo Anthony; and American actress, producer, director, activist, and businesswoman, Eva Longoria. MAIC corporate speakers include NBA Hall-of-Famer, Scottie Pippen and Grammy-nominated artist and entrepreneur Joseph "Fat Joe" Cartagena, the company's President of Urban and Latino Development.
Previous events have been attended by superstars Jennifer Lopez, Alicia Keys, Eva Longoria, Serena Williams, Alejandro Sanz, Kim Kardashian, Khloe Kardashian, Gloria and Emilio Estefan, Tony Romo, Swizz Beatz, Paulina Rubio and Marc Anthony, among many others. Additional surprise celebrity appearances are expected this week.
"We're excited to have the opportunity to host this massive online event and can't wait for everyone to see and experience what we have in store. We may not be physically together at this event but we know our UnFranchise Owners are going to love this online interactive experience, said JR Ridinger, Founder, Chairman & CEO.
About Market America | SHOP.COM
Market America is a global product brokerage and internet marketing company that specializes in one-to-one marketing and is the creator of The Shopping Annuity. Its mission is to provide a robust business system for entrepreneurs, while providing consumers a better way to shop. Headquartered in Greensboro, NC and with locations in eight countries, including the US, Market America was founded in 1992 by Chairman and CEO JR Ridinger and has generated over $9 billion in accumulated sales. Through the company's primary shopping website, SHOP.COM, consumers have access to approximately 300 million products, including Market America exclusive brands and thousands of top retail brands. SHOP.COM ranks 11th in Newsweek Magazine's 2020 Best Online Shops. SHOP.COM ranks #36 on Internet Retailer's World's Largest Online Marketplaces, #12 in the 2019 Internet Retailer Primary Merchandise Category, #65 in the 2018 Internet Retailer Top 500, #96 in the Internet Retailer Asia 500 and #18 in 2017's Internet Retailer Mobile 500. The company is also a two-time winner of the Better Business Bureau's Torch Award for Marketplace Ethics and received 2019's Triad Business Journal's "Fast 50" award as one of the top privately-held companies for sustained growth, driving the area's economy, marking the 14th time the company has received this recognition. Market America has also been named on Grant Thornton's North Carolina 100® (NC 100) ranking of the state's largest private companies by revenue 14 consecutive years. By combining Market America's entrepreneurial business model with SHOP.COM's powerful comparative shopping engine, Cashback Program, Hot Deals, SHOPBuddy® Express Pay check out, social shopping integration and countless other features, the company has become the ultimate online shopping destination.
For more information please visit Marketamerica.com