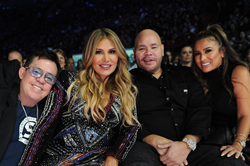 "People everywhere are succeeding more rapidly through Market America's UnFranchise® Business. The Shopping Annuity has facilitated this unprecedented growth and strength," said JR Ridinger.
MIAMI (PRWEB) February 04, 2020
From February 6th to 8th, thousands of entrepreneurs from around the world will unite at Miami's American Airlines Arena for Market America | SHOP.COM's annual World Conference (#MAWC2020). Perhaps the most anticipated event of the year for these global independent distributors (known as "UnFranchise® Owners"), MAWC 2020 will bring like-minded entrepreneurs together to learn about the latest products and innovations from the company. MAWC 2020 will feature several powerful, educational and motivational presentations led by the brightest luminaries in the business, culminating in powerful keynote presentations by the company's Founder, Chairman and CEO, JR Ridinger, Senior Executive Vice President, Loren Ridinger, and President & COO, Marc Ashley.
The continued success of the Shopping Annuity® and the UnFranchise Business -- the company's signature program to convert existing spending into earning by enabling smart shoppers to convert money they already spend on everyday purchases into a steady stream of ongoing income – will be the primary focus at World Conference. "People everywhere are succeeding more rapidly through Market America's UnFranchise® Business. The Shopping Annuity has facilitated this unprecedented growth and strength," said JR Ridinger. "We couldn't be prouder of the continuing successes of our UnFranchise Owners," continued Ridinger.
MAWC 2020 attendees will get an exclusive first look at some of the hottest new Market America products launching in 2020. Be among the first to witness Amber Ridinger-McLaughlin unveil Layered— the modern, chic and affordable jewelry line that provides luxury designs, allowing women to create looks that accentuate their unique layers (retails from $29.00 to $179.00). The company will also be launching its groundbreaking Isotonix® Astaxanthin, a powerful antioxidant and anti-inflammatory supplement, now available via an isotonic delivery system. The company is the only company in the world to offer Astaxanthin in isotonic form. Also debuting at MAWC 2020 is Pure Collagen, a breakthrough in skincare that gives the body the collagen it needs to help maintain skin's elasticity and hydration, the quality of hair and nails and joint health. Even more, Pure Collagen is ingestible and comes in convenient pocket-sized vials.
On Thursday, February 6th, Loren Ridinger (also the founder of Motives® cosmetics) will excitedly be announcing her latest Motives collaboration with Thalia, singer, songwriter, producer, actress, entrepreneur and one of the most successful and influential recording artists worldwide. The powerhouse duo will be previewing their exclusive limited-edition Thalia X Motives® Viva Eye & Cheek Palette, which features eight of Thalia's can't-live-without shades ranging from everyday mattes to ultra-creamy high-shimmers with bold color. For a total, glam-ready look, this palette also features a universal contour, blush and highlighter. Speaking of beauty, expect to be excited and inspired by the number of innovative new cosmetics and skincare product announcements at MAWC 2020, including a number of new Motives products and a new Lumière de Vie® Brightening C-Serum!
As always, a stellar array of celebrity guests and close friends of the Ridingers are scheduled to attend World Conference. In addition to Thalia, this year's celebrity guests/speakers include actress and entrepreneur, La La Anthony; NBA Hall-of-Famer, Scottie Pippen; Grammy-nominated artist and entrepreneur Joseph "Fat Joe" Cartagena, the company's President of Urban and Latino Development; and Academy Award winning actor, singer and comedian Jamie Foxx, who is scheduled to perform on Thursday, February 6th.
Previous events have been attended by superstars Jennifer Lopez, Alicia Keys, Eva Longoria, Serena Williams, Alejandro Sanz, Kim Kardashian, Khloe Kardashian, Gloria and Emilio Estefan, Tony Romo, Swizz Beatz, Paulina Rubio and Marc Anthony, among many others. Additional surprise celebrity appearances are expected this week.
"We are changing the world by leveraging our collective buying power to build our own economy that pays us all to shop," said JR Ridinger about the Shopping Annuity at last year's conference. MAWC 2020 — the first major event of this promising new decade — will be an unmissable opportunity, not only to celebrate that unprecedented growth but to generate more of it.
About Market America | SHOP.COM
Market America is a global product brokerage and internet marketing company that specializes in one-to-one marketing and is the creator of The Shopping Annuity. Its mission is to provide a robust business system for entrepreneurs, while providing consumers a better way to shop. Headquartered in Greensboro, NC and with locations in eight countries, including the US, Market America was founded in 1992 by Chairman and CEO JR Ridinger and has generated over $9 billion in accumulated sales. Through the company's primary shopping website, SHOP.COM, consumers have access to approximately 300 million products, including Market America exclusive brands and thousands of top retail brands. SHOP.COM ranks 11th in Newsweek Magazine's 2020 Best Online Shops. SHOP.COM ranks #36 on Internet Retailer's World's Largest Online Marketplaces, #12 in the 2019 Internet Retailer Primary Merchandise Category, #65 in the 2018 Internet Retailer Top 500, #96 in the Internet Retailer Asia 500 and #18 in 2017's Internet Retailer Mobile 500. The company is also a two-time winner of the Better Business Bureau's Torch Award for Marketplace Ethics and received 2019's Triad Business Journal's "Fast 50" award as one of the top privately-held companies for sustained growth, driving the area's economy, marking the 14th time the company has received this recognition. Market America has also been named on Grant Thornton's North Carolina 100® (NC 100) ranking of the state's largest private companies by revenue 14 consecutive years. By combining Market America's entrepreneurial business model with SHOP.COM's powerful comparative shopping engine, Cashback Program, Hot Deals, SHOPBuddy® Express Pay check out, social shopping integration and countless other features, the company has become the ultimate online shopping destination.
For more information please visit Marketamerica.com