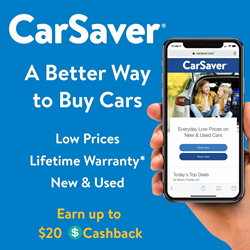 "Our partnership with CarSaver's digital platform allows our customers to select, finance, insure and purchase their next vehicle all online and have the vehicle delivered to their door — plus it comes with a lifetime warranty," said Marc Ashley, President & C.O.O. of Market America Worldwide.**
GREENSBORO, N.C. (PRWEB) November 03, 2020
When it comes to online shopping, competition is fierce. Product markets are saturated, and consumers are demanding convenience more than ever before. But that's not stopping companies like Market America | SHOP.COM, a global product brokerage and internet marketing company that specializes in One-to-One Marketing, from partnering with the automotive e-commerce platform, CarSaver— just as online car purchases are revving up into a trend. In fact, an April 2020 article in Barron's suggests that consumers looking to purchase a vehicle within the next six months are not only doing their initial research online but are also less likely to visit the dealership.
"Our business model is based on the fact that people deserve having more quality of life added to each and every day. We are constantly monitoring consumer purchasing habits and began noticing how consumers were spending more and more time researching and evaluating their next vehicle purchase from the comfort of their own home rather than spending what can take several hours in a dealership. Our partnership with CarSaver's digital platform allows our customers to select, finance, insure and purchase their next vehicle all online and have the vehicle delivered to their door — plus it comes with a lifetime warranty," said Marc Ashley, President and Chief Operating Officer of Market America Worldwide.**
The CarSaver process allows car buyers to skip the time-intensive car negotiation process, saving customers time and money. Customers save $3,811.00 on average when buying and an average of $3,900.00 in repair costs with a no-cost lifetime warranty.*
"At first, I was skeptical that I could really buy a vehicle online, but I knew that if CarSaver partnered with SHOP.COM, it had to be a good program. And after buying several vehicles in my life, I have always disliked the car buying experience. And looking online, once you enter the info on the vehicle your looking for, within 30 minutes every dealership in your area starts calling, almost harassing you. But CarSaver was very different. Once I chose the vehicle, they showed me all the dealers that had the make and model we were looking for, then I looked through the inventory of a couple dealerships and found the vehicle we wanted. CarSaver showed me exactly what I would pay for that vehicle. I could see what financing would cost monthly and see how much they would pay for our trade-in. And here is the best part: We sit down to talk price of the vehicle, and I pull out my CarSaver Report with a QR code on it. I hand it to the salesman, and he says let me show this to my manager. He comes back and says, 'you are correct; this is your price.' I could not believe my ears! I could not believe it! CarSaver saved us almost $3,300 off the MSRP! We love our new SUV, and we love CarSaver," said Barry Golomb, CarSaver customer.
Consumers can access the CarSaver auto buying program here.
Member benefits on new cars include:

Save on average more than $3,811.00 off MSRP*
Get real pricing on actual inventory on the dealer's lot
Access to CarSaver's Certified Dealer Network, which includes dealers nationwide
Receive a lifetime warranty on the engine and transmission at no cost**
Member benefits on used cars include:

Save hundreds off list price with exclusive discounts*
Choose from more than 100,000 vehicles for sale nationwide
Receive a lifetime warranty on the engine and transmission at no cost**
Receive home delivery on certain cars
"Market America | SHOP.COM is a global leader in e-commerce and their customers trust them to help them save time and money. Together SHOP.COM and CarSaver are helping customers save time and money buying or leasing their next new or used car online and having it delivered to your door with guaranteed savings and peace of mind with our lifetime warranty provided at no cost." said Chad Collier, Chief Executive Officer and co-founder of CarSaver.
About Market America | SHOP.COM
Market America is a global product brokerage and internet marketing company that specializes in One-to-One Marketing and is the creator of the Shopping Annuity®. Its mission is to provide a robust business system for entrepreneurs, while providing consumers a better way to shop. Headquartered in Greensboro, N.C. and with locations in eight countries, including the U.S., Market America was founded in 1992 by Chairman and CEO JR Ridinger. Through the company's primary shopping website, SHOP.COM, consumers have access to millions of products, including Market America exclusive brands and thousands of top retail brands. SHOP.COM ranks 11th in Newsweek Magazine's 2020 Best Online Shops, #42 on Digital Commerce 360's (formerly Internet Retailer) 2020 Top 100 Online Marketplaces, #67 in Digital Commerce 360's (formerly Internet Retailer) 2020 Top 1,000 Online Retailers, #12 in the 2019 Internet Retailer Primary Merchandise Category Top 500, #96 in the 2018 Internet Retailer Asia 500 and #18 in 2017's Internet Retailer Mobile 500. The company is also a two-time winner of the Better Business Bureau's Torch Award for Marketplace Ethics and received 2019's Triad Business Journal's "Fast 50" award as one of the top privately held companies for sustained growth, driving the area's economy, marking the 14th time the company has received this recognition. Market America has also been named on Grant Thornton's North Carolina 100® (NC 100) ranking of the state's largest private companies by revenue 14 consecutive years. By combining Market America's entrepreneurial business model with SHOP.COM's powerful comparative shopping engine, Cashback Program, Hot Deals, SHOPBuddy® Express Pay check out, social shopping integration and countless other features, the company has become the ultimate online shopping destination.
For more information please visit marketamerica.com.
About CarSaver
CarSaver is an end-to-end e-commerce platform that makes it easy to buy and sell new and used vehicles online. CarSaver is the first and only platform that helps customers buy, finance, lease and insure all the top brands of new and used cars, and every vehicle comes with a lifetime warranty at no additional cost. Consumers receive everyday low prices and payments from CarSaver's network of top dealers, banks and insurance providers who compete for the business and provide world-class customer experience with the highest level of customer service. CarSaver's e-commerce platform is being utilized by car companies and trusted brands, like SHOP.COM and Walmart, to help their customers save time and money when buying new and used cars.
*Average savings shown is the average calculated savings amount across all new in-stock vehicle currently on the CarSaver platform. The average savings for each in-stock new vehicle is calculated based on MSRP (Retail Price) minus the Sale Price/CarSaver Price.
**CarSaver's Lifetime Warranty covers repairs to the engine, transmission & drivetrain for unlimited time and miles. Some exclusions apply.