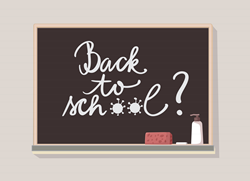 GREENSBORO, N.C. (PRWEB) August 05, 2020
During this "new normal," it's hard to know how to prepare for back to school. This confusion can add stress for your family, but there are ways to cope. The first step is to know your options and decide what's best for your family. No matter your decision, Market America | SHOP.COM is here to help with ideas, resources and savings.
1. Create Consistency and Plan: This fall will look a lot different than the typical school year and with change will come some adjustments and transitions. Creating a routine will be one of the best ways to maintain consistency and make the transition easier. One routine many parents struggle with is meal planning. With so many parents working out the details of whether or not their kids will be going back to school or college or learning from home, making dinner plans for the family can seem far less important – until someone asks what's for dinner. Ease some of that stress by checking out the variety packs offered by Rastelli's — you can order all the seafood, beef, chicken, pork and more that you need for a week's worth of meals, all from the comfort of your couch! Also make sure to check out these grocery options to simplify shopping for daily snacks and other food needs.
2. Manage Stress: This school year has already caused stress for not only parents, but kids as well. For example, if your kids are going back to school, separation anxiety may be common for some, if not all members of the family. A survey of 1,200 parents showed that 66% were anxious about sending their kids back to school. On the other hand, working and learning from home may also be a difficult adjustment. Make sure to take time throughout your day to practice some techniques that will help you and your kids feel a little more relaxed.
For the Kids:

For Parents and College-Age Students:

3. Find the Best Back to School Deals: Whether your kids are at home or at school this fall, they're going to need to stock up on school supplies. From July 30 to Aug. 13, 2020 global online retailer SHOP.COM has some massive back to school deals where you can earn extra Cashback while shopping! This means that a percentage of what you spend will be turned into Cashback that you can redeem on future purchases. To date, SHOP.COM has already paid customers over $44 million in Cashback. Check out these supplies to get the everyone ready for the fall and save while you do!

College Students and Parents:

Market America | SHOP.COM is a global product brokerage and internet marketing company that specializes in one-to-one marketing and is the creator of The Shopping Annuity®.