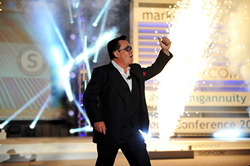 "We are changing the world by leveraging our collective buying power to build our own economy that pays us all to shop," said JR Ridinger, Founder, Chairman and CEO of Market America|SHOP.COM.
MIAMI (PRWEB) February 14, 2019
At this year's Market America | SHOP.COM World Conference (#MAWC2019), approximately 20,000 global entrepreneurs leapt to their feet and cheered as it was announced that the company was now ranked the 36th largest online marketplace in the world. Over the course of the last few years, the company has optimized its revolutionary "Shopping Annuity" program, making it possible for individuals across the globe to create an ongoing residual income for themselves by converting their existing spending into earning. The Shopping Annuity program rewards smart consumers for shifting their purchases to SHOP.COM of the same everyday products that they are already purchasing from multiple brands. This year's conference ran from Thursday, February 7th through Saturday, February 9th at the American Airlines Arena in Miami, Florida.
"We are changing the world by leveraging our collective buying power to build our own economy that pays us all to shop," said JR Ridinger, Founder, Chairman and CEO of Market America|SHOP.COM. "People everywhere are succeeding more rapidly through Market America's UnFranchise® business. The Shopping Annuity has facilitated this unprecedented growth and strength of the UnFranchise® business model; we couldn't be more proud of the continuing successes of our UnFranchise Owners." Ridinger continued "with our one-to-one marketing, universal shopping cart, referral tracking system and the power of people, our economic future is now squarely in the hands of the consumer due to the economic paradigm shift effected by the Shopping Annuity."
Ridinger continued, "recently, Entrepreneur.com (https://www.entrepreneur.com/article/315056) cited The Shopping Annuity as one of 'four effective business models that built billion-dollar companies.'" The subject Entrepreneur.com article provides, "[t]he idea behind this model is simply to enable customers to earn from their own current spending. Consumers actually earn money when purchasing everyday items, such as paper towels, toilet paper, toothpaste, razors and so on. It can be a very compelling model that fits well into the ecommerce space….. Founder and CEO of Market America and SHOP.COM, JR Ridinger, is seeing significant success with this business model in nine countries, including the U.S. In a recent interview, Ridinger said, 'The Shopping Annuity -- converting everyday spending into earning -- is the foundation of our business model and is like rocket fuel for our UnFranchise business, overall. Let's face it, Uber is essentially the largest taxi service in the world, and they don't own a single taxi/car. We look at the retail landscape in a similar way, and realize there's an equally powerful opportunity for us as a global ecommerce powerhouse. People don't just shop for luxury items, they shop for the things they use every day. By making those purchases the cornerstone of a Shopping Annuity, we feel this concept will revolutionize the retail industry as well as our economy. It took 25 years for the technology to catch up to our original vision of interconnected shoppers who wield their collective buying power and convert spending into earning."
The event featured the Market America | SHOP.COM executive team, tens of thousands of successful entrepreneurs and celebrity guests, including Grammy-nominated recording artist and entrepreneur Fat Joe (the company's President of Urban & Latino Development), actress Gabrielle Anwar and others.
Among the highlights of the event:

JR Ridinger could not contain his enthusiasm for the success of the Shopping Annuity program, his brainchild. JR repeatedly demonstrated how adherence to the program generates substantial residual income over an extended period of time, ultimately resulting in great life freedoms for participants. In traditional JR fashion, he used multiple metaphors and symbols to drive his point home – whether demonstrating the inefficiencies of the "rat race" while on a giant hamster wheel or speaking to "Joe Nobody," who lived and died an anonymous life without taking any chances to build for his future or the pitfalls of "the 45-year plan" that most working people get consumed by without ever realizing it. Based on digital aggregation and collective buying power and funded by one's existing everyday spending rather than income, JR proved that the Shopping Annuity is the single greatest initiative that will drive both tremendous wealth creation for participants and exponential growth for the company. He also demonstrated what the company is doing to greatly simplify the Shopping Annuity program. JR proudly stated that "we can convert our spending into earning, we have digital aggregation where our numbers and a monetized system can force prices down and give us a piece of the market and we have a tracking system where we can accumulate it and get residual income. It's going to be as impactful as Google has been." In traditional JR style and theatrics, JR likened success via The Shopping Annuity program to how geese, ducks and chickens all learn their most important life and survival lessons from birth. In a very animated and often funny demonstration onstage with several UnFranchise Owners, JR stated "7 or more geese fly in a V formation, share a common goal and work together to succeed. Be the lead goose. Don't tell the others that you were ever a duck or a chicken. Don't you dare! As each goose flaps its wings, it creates an uplift reducing friction for the birds that follow. It's actually aerodynamic engineering. It's scientific – the way nature made it. So the lesson is the V formation allows a whole flock to achieve 70 percent greater flying range than if the bird flew alone. That binary structure is the most efficient in flight, aerodynamics and mathematically. Now, isn't that interesting? UnFranchise Owners all have a common teams in building depth. In building depth, it takes 2 teams to get there. So the common goal, vested economic interest and everyone succeeding, creates lift. Make sense? Of course it does. Increased visibility in following the pattern. So, flying in a V formation increases visibility and each goose can see what's happening in front of them. So, when you're building together, it's very clear, isn't it? Making our organization visible allows them to stay connected and allows the followers to see the bigger picture, engages them and empowers them. The flock will believe it when they see it. Everybody starts believing. The way you're doing it is you get them in and then you have to get them to go do it and maybe they'll get someone in someday but you don't know. Isn't that what happens? Well, not when you're doing it with the geese procession."
Loren Ridinger, Senior Executive Vice President of Market America|SHOP.COM and creator of the Motives by Loren Ridinger cosmetics brand, mesmerized the crowd in her welcome address with her emotional and passion-fueled inspirational message of empowerment and self-love. Loren brought a woman onstage from Wisconsin who sold her clothing to be able to attend World Conference. She then had her car stolen and did not have a room to stay in while in Miami. That still did not deter her from attending World Conference. Loren drove home the point that, because this woman clearly understood her "why" and her purpose/goals, she did not let any obstacles stand in the way of her achieving her goals. "She is here, and that is what this Conference is all about. So get rid of the excuses. Stop being a victim and start forgiving yourself. Forget the past and live your future." Loren wowed the enthusiastic audience with several powerful yet basic messages. "Too many of you are letting fear affect your thinking. Do you understand that fear is a wasteful emotion? It's not even real. There's nothing that's fear. We create it. You can't touch it. You can't feel it. You can't see it. It's an emotion and it's one that we self-generate. Stop putting it off for later, folks. Later only turns into another word and it's called 'Never. NEVER.' Every time you say 'later,' 'later' turns into 'never.' And let me tell you something, don't let your tombstone have your name, your birthdate and your death date with a sign that says 'not used up. Wasted talent. Wasted will.' When you start to change how you see things, things start to change. No longer will you hang out with your partner, your friend, your girlfriend, your husband, your wife, your mother, your sister or your best friend if they're not in it with you. And I know, people always say to me, 'be careful what you say up there. Sometimes you act like you are telling people to get a divorce.' Am I telling you to get a divorce? No. I'm telling you to make sure that someone loves you right, that somebody lets you live your life. I'm telling you to not let someone bully you around. I'm telling you that if you are not with someone who's in it to win it, get rid of them. It is not good for you. And guess what? It will never change, will it? You'll be stuck. And guess what happens when you get stuck there? It becomes your excuse. Oh, and by the way when you become stuck there, not only does it become your excuse, you've also become a victim. Being a victim and using it as an excuse will never get you to where you need to be. And most people know no way out. They're stuck. I'm not asking you to train for a race. I'm asking you to train for your life. I don't know where you are in your life. Where are you? What are you stuck on? How do we get you to where you need to be? Where are you stuck? You're too old for Snapchat and too young for Life Alert. I get that. I don't know where you are in life but if you're stuck between a rock and a hard place, all you have to do is push the rock. Push the rock out of your way. The best project you'll ever work on is you. Do you know that? The best thing you can do for the people who love you and the people you love is to work on yourself. I'm a constant work in progress. And if you're not, then you're not working on yourself. If you're not constantly working on yourself, something's missing. And I mean work on yourself, not on your SELFIE. Too much of this world spends so much time shaping up their ass rather than shaping up their character. So many people panic to find a charger before their cellphone dies but they won't panic to find a plan before their dream dies."
Market America | SHOP.COM President & COO Marc Ashley announced the launch of several new cutting edge products, including products that are Market America's exclusive brands, The Shopping Annuity Brand, generic products and third party-branded products, many of which offer substantial commissions (BV and/or IBV). These products include Isotonix Complete Greens, Probiotics 10, Bliss, several new products under the Shopping Annuity brand (including premium roast coffee, baby wipes, flushable wipes, sunscreen, disposable razor blades for men and women, razor blade systems with refill cartridges for men and shaving cream with activated charcoal). Marc also provided a sneak peek into several other new products that the company will be launching shortly, including a powerful collagen formula and a powerful black cumin seed product. Marc detailed the newest offerings on the SHOP.COM site, including new products, new partner stores and new egift cards, as well as enhancements to the company's other digital assets. Marc also showcased the company's MasterCard® credit card program and encouraged attendees to earn cashback via the company's super successful SHOP Local program. The SHOP Local program rewards customers of SHOP.COM for their offline spending (such as eating at restaurants and patronizing service establishments such as dry cleaners and auto repair shops) while at the same time allowing local small business owners to tap into SHOP.COM's extensive loyal customer base. Marc demonstrated how easy it is to build a Shopping Annuity simply by shifting current every day product purchases to SHOP.COM because of the volume and competitive pricing of products on the site.
Marc was joined onstage by SHOP.COM President & COO Steve Ashley. Steve delivered a very powerful presentation about how SHOP.COM is not only taking the friction out of online shopping via several site enhancements but is also taking the shopping out of shopping via the company's new SHOP.COM Concierge Program. This new program provides personal shoppers who will help shoppers fill their carts before they even start to shop. The program is an important game changer for the company as it will enable SHOP.COM's loyal customers to have perhaps the best and easiest online shopping experience possible. Steve also spotlighted several enhancements to site search as well as customer experience enhancements that help shoppers shop easily and more effectively – for example, being prompted to add additional products at checkout to ensure that a shopper reaches a free shipping threshold. A very passionate Steve declared that "we're not competing with other e-commerce sites because no e-commerce site can compete with us because they don't offer the lucrative MPCP [the acronym for the company's compensation plan] or the Shopping Annuity like we do. We're not going to be, we will be and are the best shopping site that you're going to send your customers to, that you are going to go to because through the Shopping Annuity, through the ease of use, through better shipping offers, better deals and making sure that it is customized to you, we are going to get so much better."
Grammy-nominated artist and entrepreneur Joseph "Fat Joe" Cartagena, the company's President of Urban and Latino Development, came onstage leading a chant of "Victory! Victory! Victory!" referring to the continuing success and growth of The Shopping Annuity. In typical Fat Joe style, Joe delivered a heartfelt presentation about how the Shopping Annuity continues to positively change lives by providing ordinary people with simple ways to build residual income. "There is no job security. Period. I know a guy. His name is Cedric Hollywood. Cedric Hollywood is a legendary radio programmer right here in Miami. This guy was with the #1 radio station, with #1 ratings for 20 years. One day the boss came in and said, 'I'm thinking we're going in a different direction. You're fired.' How can you be higher than #1? It just doesn't exist. Sure enough, Cedric was fired. As simple as that, these people play God with your life. This woman worked for a company for 19 years. She was months away from retiring. She thought this company was her company. Rain, sleet or snow, she woke up every day and did all types of things for her bosses. She thought they were just one big family. One day, the boss came in and shut down the business. There is no security in jobs. 19 years! They just shut down the business. She didn't get a piece of the business. She didn't get a retirement package or pension. She didn't even get a warning. A year has passed and she's still crying every day. She thought these people were her real friends. There is no job security. That's why you have to be your own boss and The Shopping Annuity provides that for you!"
Many UnFranchise® Owners shared their business building tips and success stories regarding how the UnFranchise® business and the Shopping Annuity have empowered them to create financial freedom via earning residual income. In addition, many were formally recognized onstage by the company for their achievements.
Set forth below is a link to the master list of stage presentations for the Market America | SHOP.COM 2019 World Conference including links to video clips of same as well as the overall event highlight video.
MAWC 2019 Full Stage Presentation YouTube Playlist – http://bit.ly/MAWC2019StagePresentations
ABOUT MARKET AMERICA, INC. & SHOP.COM
Currently in its 27th year, Market America, Inc. is a global product brokerage and Internet marketing company that specializes in one-to-one marketing and is the creator of The Shopping Annuity. Its mission is to provide a robust business system for entrepreneurs, while providing consumers a better way to shop. Headquartered in Greensboro, NC, the company was founded in 1992 by Chairman and CEO JR Ridinger and has generated over $8.5 billion in accumulated sales. Market America employs approximately 1,000 people globally with operations in the United States, Canada, the United Kingdom, Taiwan, Hong Kong, Singapore, Australia and Malaysia. Through the company's primary shopping website, SHOP.COM, consumers have access to approximately 60 million products, including Market America exclusive brands and thousands of top retail brands. Market America's revolutionary Shopping Annuity program, which helps shoppers convert their existing everyday spending into earning, is an extraordinary and financially meaningful benefit of the business. Internet Retailer has ranked SHOP.COM #65 in the 2018 Internet Retailer Top 1000, the #36 largest global online marketplace in the 2019 Internet Retailer Top 100 Online Marketplaces Database, #96 in the Internet Retailer Asia 500 and the 18th fastest growing Internet Mobile Retailer. The company is also a two-time winner of the Better Business Bureau's Torch Award for Marketplace Ethics, was ranked 8th in the 2018 Grant Thornton North Carolina Top 100® (NC100) and received 2018's Triad Business Journal's "Fast 50" award as one of the top privately-held companies for sustained growth, driving the area's economy. By combining Market America's entrepreneurial business model with SHOP.COM's powerful comparison shopping engine, Cashback program, Hot Deals, SHOPBuddy™, Express Pay check out, social shopping integration and countless other features, the company has become the ultimate online shopping destination.
For more information, please visit https://www.lumieredevie.com, http://www.marketamerica.com or http://www.SHOP.COM.