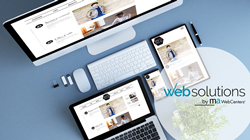 "Our newly added partnership with Duda allows us to develop industry leading websites that offer best in class solutions with unparalleled support that clients can't get anywhere else." Marc Ashley, President & COO of Market America Worldwide
GREENSBORO, N.C. (PRWEB) July 17, 2020
Market America, Inc. is proud to announce its synergistic partnership with Duda, Inc. and iVenue.com Inc. to provide the best in class digital marketing solutions to its customers through its business services division, maWebCenters. For close to 20 years, maWebCenters has provided all-inclusive digital marketing solutions – including e-commerce website and blog building – that help businesses increase revenue, decrease expenses, streamline operations and improve customer engagement. maWebCenters sources the best providers in the marketplace, like iVenue and now including Duda, Inc., which provides its website builders to over 8,000 SaaS platforms and providers, marketing and advertising agencies and digital publishers. By partnering with both iVenue and now Duda, maWebCenters can offer its clients world class solutions with support not found anywhere else.
"maWebCenters facilitates Market America's business philosophy to provide added value to its distributor base, known as UnFranchise Owners (UFOs), by offering UFOs the ability to sell – to small and medium-sized businesses – premium website solutions that include digital marketing products and services. Our newly added partnership with Duda allows us to develop industry leading websites that offer best in class solutions with unparalleled support that clients can't get anywhere else. With our longstanding relationship with iVenue, they will continue to support all of our clients, as well as develop more solutions to bring to market," said Marc Ashley, President & COO of Market America Worldwide.
A strategic partner for close to 20 years, iVenue will now hyper-focus on providing maWebCenters and its clients with an intimate understanding of the most innovative and effective solutions, acting as maWebCenters' Professional Product Specialists when it comes to digital marketing, website design and unparalleled customer support. iVenue will also continue to support maWebCenters' clients interested in its current web building platform.
"Instead of trying to swim upstream against the flood of competition in this very crowded space, with our recent pivot we decided to embrace the competition, leverage their strengths and become more of an overall digital marketing solutions provider. Our partnership with maWebCenters and Duda, Inc. brings us closer to that goal, so we are excited to see the growth that will come from this strategic partnership," said Brett Ratner, Chief Operating Officer of iVenue.
Duda, Inc. is well-known for having one of the most versatile and comprehensive professional website building platforms on the market. The Duda website editor offers ease of use in building and maintaining a strong website presence with high tech widgets and robust features that do not rely on the need for a web developer or coding. The websites are beautifully designed, built for page speed to enhance search engine placement and responsive to fit any user's device. By partnering with Duda, Inc., maWebCenters now offers its clients a premier website builder platform called "Oasis." Initially the Oasis Editor will be available in the U.S., Canada, Australia, Singapore and the United Kingdom (English and Spanish languages only). With such a superior platform in place, maWebCenters is setting its sights on attracting small businesses, marketing and advertising agencies and professionals who are looking for the best solution to scale their business with flexibility and elasticity.
"The team at Duda is excited to work alongside the team at maWebCenters to provide professional web presence solutions to their clients. We look forward to joining forces with both Market America and iVenue to help maWebCenters' clients achieve their goals," said Itai Sadan, Chief Executive Officer of Duda, Inc.
About maWebCenters
Founded in 1992, Market America WebCenters or maWebCenters is one of the fastest growing business website solution providers on the internet today. Offering the most comprehensive website development service, business owners are given the opportunity to instantly establish an effective ecommerce presence. maWebCenters offers its digital marketing solutions in seven of Market America's market countries including Australia, Canada, Hong Kong, Singapore, Taiwan, the United Kingdom and the US as well as nine of Market America's Emerging Markets Program countries, which include Bermuda, Chile, China, Costa Rica, Indonesia, Ireland, Macau, Mexico and the Philippines in 4 languages – English, Spanish, Mandarin and Cantonese.
About Market America | SHOP.COM
Market America is a global product brokerage and internet marketing company that specializes in one-to-one marketing and is the creator of the Shopping Annuity®. Its mission is to provide a robust business system for entrepreneurs while providing consumers a better way to shop. Headquartered in Greensboro, N.C. and with locations in eight countries including the U.S., Market America was begun in 1992 by Founder, Chairman and CEO JR Ridinger and has generated more than $9 billion in accumulated sales. Through the company's primary shopping website, SHOP.COM, consumers have access to approximately 300 million products, including exclusive Market America products and thousands of top retail brands. SHOP.COM ranks 11th in Newsweek magazine's 2020 Best Online Shops. SHOP.COM ranks No. 67 in the 2020 Digital Commerce 360 (formerly Internet Retailer) Top 1,000, ranks No. 36 on Internet Retailer's World's Largest Online Marketplaces, No. 12 in the 2019 Internet Retailer Primary Merchandise Category, No. 96 in the Internet Retailer Asia 500 and No. 18 in 2017's Internet Retailer Mobile 500. The company is also a two-time winner of the Better Business Bureau's Torch Award for Marketplace Ethics and received 2019's Triad Business Journal's "Fast 50" award as one of the top privately-held companies for sustained growth, driving the area's economy — the 14th time Market America has been a "Fast 50" recipient. By combining Market America's entrepreneurial business model with SHOP.COM's powerful comparative shopping engine, Cashback program, Hot Deals, ShopBuddy® Express Pay check out, social shopping integration and countless other features, the company has become the ultimate online shopping destination. For more information: Visit marketamerica.com.