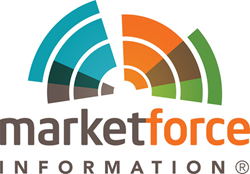 We are excited about the future developments that this new partnership will help us implement with our clients across the globe
Louisville, Colo. (PRWEB) August 02, 2017
Market Force Information® (Market Force or the Company) announced today the closing of a management-led buyout of the company in partnership with Main Street Capital of Houston, Texas. Main Street Capital and the management team provided funding in the form of debt and a direct equity investment in the Company.
Market Force will collaborate with its new partners to supplement its offerings with additional performance measures and incremental technology developments, which will evolve how it serves its clients and enable them to deliver exceptional customer experiences and improve clients' financial performance.
Founded in 2005, Market Force is a leader in customer experience (CX) management, a high-growth industry that is projected to increase from $5 billion in 2016 to $13 billion by 2021, buoyed by brands' needs to manage the customer journey, retain customers and achieve competitive differentiation.
Market Force provides CX management services and solutions to multi-location businesses around the world, including major retailers, restaurants, grocery and drug stores, petro/convenience operators, banking and financial services providers, as well as the entertainment industry. Every month, Market Force collects, processes and analyzes millions of customer satisfaction and employee engagement surveys; leverages a global network of over 400,000 independent contractors to execute in excess of 100,000 mystery shops and audits; manages over 150,000 inbound contacts to its contact center service; engages thousands of consumers online to conduct customer recovery services; hosts over 1 million user logins to its KnowledgeForce® reporting platform and Eyes:On™ mobile data collection app; and provides predictive analytics and sophisticated data modeling to help its clients identify the financial ROI of driving targeted improvements.
"Market Force has a comprehensive array of customer experience solutions available to clients looking to enhance customer loyalty and sales growth, and we are delighted to partner with a forward-thinking investment firm such as Main Street Capital to facilitate our innovation in the industry," said Ray Walsh, CEO of Market Force. "We are excited about the future developments that this new partnership will help us implement with our clients across the globe, empowering us to continue as the gold standard for the customer experience industry."
About Market Force Information
Market Force Information is a customer experience (CX) management company that provides location-level measurement solutions that help businesses protect their brand reputation, delight customers and make more money. Solutions include customer experience surveys, employee engagement surveys, mystery shopping, on-site audits, contact center services and social media review tracking, which are all integrated into one technology and analytics platform, KnowledgeForce. Founded in 2005, Market Force has a growing global presence, with offices in the United States, Canada, United Kingdom, France and Spain. It serves over 280 clients that operate multi-location businesses, including major retailers, restaurants, grocery and drug stores, petro/convenience operators, banking and financial services providers, and the entertainment industry . The company has been recognized in 2017 as one of the top 50 market research organizations in the AMA Gold Report and by Forrester as a Breakout Vendor. For more information, visit http://www.marketforce.com.
About Main Street Capital Corporation
Main Street Capital (http://www.mainstcapital.com) is a principal investment firm that primarily provides long-term debt and equity capital to lower middle market companies and debt capital to middle market companies. Main Street's portfolio investments are typically made to support management buyouts, recapitalizations, growth financings, refinancings and acquisitions of companies that operate in diverse industry sectors. Main Street seeks to partner with entrepreneurs, business owners and management teams and generally provides "one stop" financing alternatives within its lower middle market portfolio. Main Street's lower middle market companies generally have annual revenues between $10 million and $150 million. Main Street's middle market debt investments are made in businesses that are generally larger in size than its lower middle market portfolio companies.
Main Street Capital's common stock trades on the New York Stock Exchange ("NYSE") under the symbol "MAIN." In addition, Main Street has outstanding 6.125% Notes due 2023, which trade on the NYSE under the symbol "MSCA."