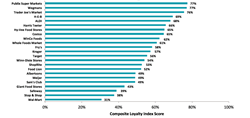 Publix has cleanest and best-stocked stores, while Trader Joe's has friendliest cashiers
LOUISVILLE, Colo. (PRWEB) May 09, 2017
Publix and Wegmans are America's favorite grocery retailers, tying for first place in a consumer study of more than 12,700 shoppers conducted by Market Force Information® (Market Force). Trader Joe's is a very close second and H-E-B ranks third. This is the second consecutive year that Wegmans has held the top spot in the annual study, after unseating long-running favorite Trader Joe's in 2016.
Publix, which ranked second for the past four years, earned a first-place tie with Wegmans, with each scoring 77% on Market Force's Customer Loyalty Index. Trader Joe's narrowly missed the lead spot with 76%, and H-E-B made the top three for the first time with 69% - a 10% increase from 2016. ALDI and Harris Teeter rounded out the top five with 68% and 66%, respectively.
Publix Super Markets is the largest employee-owned grocery chain in the country and has been named to Fortune's 100 Best Companies to Work For every year since the list's inception. The chain's engaged and friendly associates help deliver on its "Where shopping is a pleasure" motto.
Wegmans, founded in 1916, is known for its fresh produce, reasonable prices and massive stores. The New York-based chain is expanding steadily and, with a focus on employee training to ensure customers have a great experience, creating superfans eager for a new location to open near their home.
Publix Stores Are Cleanest, Trader Joe's Cashiers Are Most Courteous
What sets one grocer apart from the others in shoppers' minds? For one, being able to find the items they want, a category where Publix was a clear leader. Publix was also found to have the cleanest stores and fastest checkout speeds. Wegmans ranked highest for its specialty department service, and a close second for item availability. Trader Joe's was found to have the most courteous cashiers. ALDI once again led for value, followed by WinCo Foods and Costco. Harris Teeter, Hy-Vee, ALDI and H-E-B all fared well in the rankings, while Walmart landed at the bottom in all categories but one.
Produce Most Popular Organic Product
Consumer preference for local and organic choices at the grocery store are holding steady, with 58% of shoppers indicating that locally sourced meat, produce and dairy products are important. Half said they prefer organic when given a choice, and 93% had purchased organic produce in the past 30 days, making it the most popular organic item, followed by meat, dairy and packaged dry goods. Baby products and paper products were the least bought organic offerings.
Meal Kit Services See High Churn
Meal kit delivery services – where all the needed ingredients and a recipe are shipped direct to the home – are picking up in popularity. With more than 150 companies vying for a slice of the industry, Market Force wanted to understand the appeal of these services and which brands are leading the way and customer satisfaction levels.
Market Force found that 11% of consumers studied had tried a meal kit delivery service at least once, however, nearly half (47%) were less than satisfied with the experience. When asked why they opted for a meal delivery service, 51% indicated they were looking to add variety to their meal planning. Others top reasons were to have a fun experience, try new ingredients, save time and reduce decision-making.
Blue Apron is the most popular meal kit service, with 39% indicating they've tried it, HelloFresh was second with 30% and Home Chef was third with 10%. However, 76% who tried a meal delivery service have stopped using it, primarily because of poor value, but also portion size and prep time. Home Chef has the highest satisfaction rating and the lowest customer churn.
Convenience is Driving Tech Trends
Increasingly, shoppers are filling up their shopping carts online rather than in the store. Market Force found services such as click-and-collect (buy online and pick up at store) and online ordering with home delivery are being embraced across all age groups, particularly millennials.
The use of click-and-collect has more than doubled since 2016, with 9% saying they've tried it, compared to 4% in 2016. Of those, 78% were satisfied or very satisfied with the experience. Most click-and-collect shoppers use the service at Walmart, followed by Kroger, Sam's Club and Harris Teeter. Twenty-six percent are frequent users, taking advantage of click-and-collect at least monthly.
Home delivery services are also growing in popularity – 18% said they've used grocery home delivery, compared to 15% in 2016. Most are using the service through general online retailers such as Amazon and Jet. However, one-fifth were less than satisfied with the experience, leaving ample room for improvement.
Circular Use is Way Up
Despite the rise of grocery tech, people still love their printed circulars and are using them more than ever. In fact, 82% use them at least weekly, a significant jump from 2016 when just 48% reported weekly use. What's more, nearly one-quarter shop at a specific grocer because of their circular promotions.
Methodology
For the rankings, Market Force asked participants to rate their satisfaction with their most recent grocery shopping experience and their likelihood to refer that grocer to others. The results were averaged to rank each brand based on a Composite Loyalty Index score.
Survey Demographics
The survey was conducted online in March 2017. The pool of 12,774 respondents represented a cross-section of the four U.S. census regions, and reflected a broad spectrum of income levels, with 51% reporting household incomes of more than $50,000 a year. Respondents' ages ranged from 18 to over 65. Approximately 75% were women and 24% were men.
For more information on Market Force's services for the grocery industry, visit http://www.marketforce.com/industries/grocery-drug.
About Market Force Information
Market Force Information® provides location-level measurement solutions that help businesses protect their brand reputation, delight customers and make more money. Solutions include customer experience surveys, mystery shopping and contact center data integrated on one technology and analytics platform. Founded in 2005, Market Force has a growing global presence, with offices in the United States, Canada, United Kingdom, France and Spain. It serves over 350 clients that operate multi-location businesses, including major retailers, restaurants, grocery and convenience stores, financial institutions and entertainment. More information can be found at http://www.marketforce.com.
###