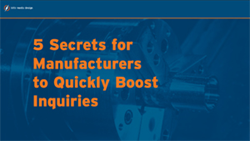 What would even one new OEM customer or blanket order mean for your business?
Dayton, Ohio (PRWEB) August 09, 2016
Blitz Media Design announced publication of their new "5 Secrets for Manufacturers to Quickly Boost Inquiries" video presentation and corresponding white paper. Both are offered as a free download for manufacturers and industrial firms interested in getting more inquiries, OEM customers or blanket orders.
Blitz Media Design offers a unique perspective into digital marketing for manufacturers. The company's principals have a combined 30 years in manufacturing, and used these techniques to increase their own sales. This led to the sale of the manufacturing company, and a new career helping other industrial clients.
In the video, Scott de Fasselle asks, "What would even one new OEM customer or blanket order mean for your business?" The presentation offers specific recommendations to help attract new customers.
The video and white paper are free of industry-jargon, and offers five specific actions manufacturers can use to help their marketing. It addresses the common mistakes many make, and how to create an effective marketing message that will help generate more inquiries and sales.
About Blitz Media Design
Started as Web Refinements in 1999, the Ohio design firm specializes in digital marketing for manufacturers and industrial firms. Servicing clientele globally, the company's "Designing for Results" approach is how it delivers relevant, practical website and marketing strategies.
Blitz Media Design services include services include:

Digital Marketing Services, including targeted outbound marketing, lead generation, social media, direct mail, and e-newsletters.
Web Development, including responsive website design, hosting, and search engine optimization.
Graphic Design, including logos, print design, multimedia presentations, and trade show displays.
Product photography, image restoration, and retouch.
For further information, please visit http://www.blitzmediadesign.com or call 937-985-1510.