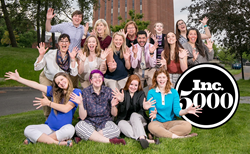 NORTHAMPTON, Mass. (PRWEB) September 12, 2019
On Friday, September 13th, Marketing Doctor will celebrate its #2702 ranking on the Inc. 5000 list of America's fastest-growing private companies. The celebration, beginning at 4:30 pm, will include a ribbon cutting ceremony alongside Northampton Mayor David Narkewicz around 6:00 pm.
As a certified woman-owned small business, Marketing Doctor's achievement is particularly impressive because:

The last reported figure of women-owned businesses on the Inc. 5000 list was 14%. (Inc. 5000 has not disclosed the percentage of women-owned businesses for 2019.)
Inc. 5000 companies must have a minimum annual revenue of $2,000,000 and achieve an impressive three-year percentage revenue growth.
Only 1.7% of Women-Owned companies generate more than $1 million in revenue, and 88% of women-owned businesses generate less than $100,000 in revenue, according to a 2018 report by WBENC, the Women's Business Enterprise National Council.
"I am so proud and honored that we have been named among the fastest growing companies in America, but I'm most proud of the ROI we've brought to our clients and the great futuristic jobs we've brought to Western Massachusetts, especially at a time when businesses seem to be leaving the region and the Northeast in general," said President and Founder, Janet Casey. "We find the best talent in the region and work diligently to stay ahead of the wildly changing advertising landscape. We grew this agency because our smart and persistent staff regularly beats the results of big city and Madison Avenue advertising agencies with metrics that thankfully can now be tracked."
Casey believes in leading economic development in Western Massachusetts by offering high-paying and cutting-edge digital advertising positions. Members of the Marketing Doctor team frequently travel to exclusive training workshops and conferences with the world's largest tech companies, such as Facebook and Google.
Headquartered in Northampton, MA, Marketing Doctor also celebrates:

16 years in business
Clients from 33 states and counting
Since 2015, staff numbers have more than tripled
Exclusive partner programs with the world's largest tech companies
"The companies on this year's Inc. 5000 have followed so many different paths to success," said Inc. editor in chief James Ledbetter. "There's no single course you can follow or investment you can take that will guarantee this kind of spectacular growth. But what they have in common is persistence and seizing opportunities."
More about Marketing Doctor, Inc.
Since its inception in 2003, Marketing Doctor has offered results-oriented marketing in statewide, regional, and national marketing campaigns. Marketing Doctor specializes in media buying and is a premier provider of digital and traditional marketing and online advertising services, social media advertising, and more. For more information, visit http://www.mymarketingdoctor.com
More about Inc. and the Inc. 5000
Methodology
The 2019 Inc. 5000 is ranked according to percentage revenue growth when comparing 2015 and 2018. To qualify, companies must have been founded and generating revenue by March 31, 2015. They had to be U.S.-based, privately held, for profit, and independent—not subsidiaries or divisions of other companies—as of December 31, 2018. (Since then, a number of companies on the list have gone public or been acquired.) The minimum revenue required for 2015 is $100,000; the minimum for 2018 is $2 million. The Inc. 5000 is a list of the fastest-growing private companies in the nation. Started in 1982, this prestigious list has become the hallmark of entrepreneurial success. http://www.inc.com/inc5000
About Inc. Media
Founded in 1979 and acquired in 2005 by Mansueto Ventures, Inc. is the only major brand dedicated exclusively to owners and managers of growing private companies, with the aim to deliver real solutions for today's innovative company builders. Inc. took home the National Magazine Award for General Excellence in both 2014 and 2012. The total monthly audience reach for the brand has grown significantly from 2,000,000 in 2010 to more than 20,000,000 today. For more information, visit http://www.inc.com.