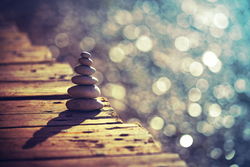 Mindfulness fosters passion and inner peace, creativity and resilience. Just what marketers need to do their best, even in stressful times.
LOS ANGELES (PRWEB) April 15, 2020
B2B marketing training leader MarketingProfs is offering two free webinars to help marketers manage stress and improve their marketing skills even as the COVID-19 pandemic continues to disrupt marketers' personal and business lives.
The pandemic has brought about upheaval to the business world, not least in how companies worldwide are conducting business. Meanwhile, parents find themselves trying to balance working from home and using unfamiliar technologies with home-schooling, and millions are worried about the financial implications.
These webinars emerged out of MarketingProfs' desire to help marketers feel a measure of normalcy in trying times, as well as prepare themselves for the new normal after the pandemic, MarketingProfs CEO Joe Terry explained.
"With stay-at-home orders affecting entire cities, and even countries, and a record number filing for unemployment in the US, stress levels are at an all-time high," Terry said. "Many of us are trying to find and create meaning in our work amid reshuffled priorities."
To help assuage stress and provide a sense of solace during this difficult time, as well as help marketers with career-related training for what may come afterward, MarketingProfs has organized two webinars presented by leaders their fields.
On April 17, Allen Weiss, MarketingProfs founder and head of Mindful USC, in Los Angeles, will be hosting a live mindfulness webinar titled "Relax, Release, Realign: The Art of Mindful Living." Designed specifically to help marketers focus on their mental stability, develop balance with their emotions, and achieve a sense of normalcy during these strange times, the webinar is free and open to all.
"Mindfulness fosters passion and inner peace, creativity and resilience. Just what marketers need to do their best, even in stressful times," Weiss explained.
Following up, on April 24, MarketingProfs Chief Content Officer and Wall Street Journal best-selling author Ann Handley will be hosting her first-ever Tiny House Talk, "How to Write Your Face Off & Love Doing it: Writing for Non-Writers". In this free webinar, broadcast live from her tiny house office, Ann will be helping marketers embrace the power and opportunity that writing provides.
"Writing is the foundation of so much great marketing," Handley said. "My goal is to help Marketing level-up their writing… and have fun doing it."
To learn more about these webinars, please visit http://www.marketingprofs.com/events.
About MarketingProfs
MarketingProfs is a training and education provider dedicated to helping B2B marketers drive tangible business results. MarketingProfs produces training programs, online events, conferences (including MarketingProfs B2B Forum), and supplementary free resources that are all based on MarketingProfs Campaign Framework, a proven methodology that give marketers a blueprint for successful campaign management. Companies like Infosys, Penn Mutual, Guidehouse (formerly Navigant), and Kaplan rely on MarketingProfs to provide learning programs for their in-house marketing teams and more than 550,000 marketers worldwide trust MarketingProfs as their top marketing resource.