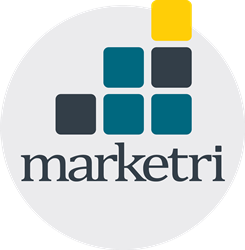 PHILADELPHIA (PRWEB) February 25, 2019
Marketri LLC, a strategic marketing firm headquartered in Philadelphia, Pennsylvania, has had a busy first quarter with the addition of three new team members. Hannah Burks, Content Marketing Manager; Kevin Moll, Senior Marketing Manager; and Lauren Alwine, Marketing Account Manager join the team of marketing professionals known for helping business-to-business (B2B) companies drive marketing programs and achieve growth objectives. Along with internal marketing efforts, the three new team members will play a crucial role in supporting clients from high-growth companies, private equity firms and investment banks.
Debra Andrews, President of Marketri, said, "High-growth companies are demanding more and more from the marketing function, including strategy, positioning, lead generation and customer engagement. I'm thrilled to welcome Kevin, Hannah, and Lauren to the Marketri family. Each professional brings unique qualities and skills and will be instrumental in helping us satisfy the surge in demand for our strategic marketing and fractional CMO services."
Hannah Burks joins Marketri after time as a content strategy consultant in the Philadelphia area. Experience in content management, consulting and copywriting, has provided her with the skills to mobilize a brand and achieve targeted marketing goals. With a B.A. in English and Philosophy from Pennsylvania State University, Burks contributes strong, creative experience to the Content Marketing Manager position.
As Senior Marketing Manager, Kevin Moll brings seven years of agency experience to the Marketri team. With a focus on data-driven strategies, he will be a key player in delivering measurable results to clients. Prior to Marketri, Moll spent time at two full-service branding and technology agencies in Philadelphia. He holds a B.A. in Marketing from Temple University.
As the third Marketri addition, Lauren Alwine provides a unique skillset to the Marketing Account Manager role. While at two full-service agencies, Alwine was able to gain experience providing strategic planning, account management and public relations services to several Fortune 100 companies. She received a M.A. in Media Studies from Pennsylvania State University and a B.A. in Sociology from the University of Virginia.
Marketri continuously aims to increase its strength and capabilities to better support clients' needs. As the company grows with the new, experienced hires, clients will be better supported to hit their growth objectives.
About Marketri LLC
Founded in 2004, Marketri LLC is a modern-method B2B strategic marketing consulting and Fractional CMO provider to mid-sized, growth-oriented companies throughout the United States. Using best practices, advanced digital technologies and a network of highly skilled specialists, Marketri helps clients generate warm leads, engage new and existing customers, and accelerate revenue growth. With four offices nationwide, Marketri provides clients unsurpassed value for the marketing dollar. For more information, visit http://marketri.com.