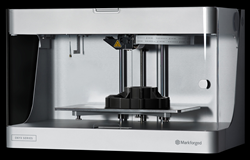 Cambridge, MA (PRWEB) December 07, 2016
Markforged is pleased to announce that its newly released Onyx One carbon fiber 3D printer will be featured in the WIRED Store at Brookfield Place in New York City, from December 8th through the 18th.
As the only 3D printer among a host of innovative technology products on display at the annual WIRED Store, the Onyx One will showcase the ease of designing and printing strong functional pieces for a wide range of applications. Entrepreneurs, engineers, inventors and designers increasingly depend on Markforged printers to speed time to development and print from prototypes to a final product.
The Markforged Onyx One is a reliable desktop 3D printer for professionals designed from the ground up to create carbon fiber printed parts out of the Onyx material. Onyx parts not only look striking with a carbon black finish but have remarkable properties as compared to other plastic desktop 3D printers, such as twice the stiffness of nylon, heat tolerance, and stability. As a result, this printer is ideal for a wide range of beneficial uses from prototyping and design, to end-use applications within a finished product.
The Onyx One is designed to upgrade to the Markforged Onyx Pro, which reinforces parts with continuous fiberglass for high-strength industrial uses.
Visitors to the WIRED Store in New York City can take home a free sample part printed on a Markforged printer.
About Markforged
As one of the most well respected and innovative 3D printing companies in the market today, Markforged's mission is to bring high strength 3D printing to every production shop and desktop. Offering the world's only 3D printing systems capable of automatically reinforcing engineering plastics to aluminum levels of performance and beyond, Markforged enables every business to easily manufacture parts with structural strength right on the desktop. Markforged Industrial Strength 3D Printers empower professional users to affordably create workhorse 3D parts that solve real problems, as well as realize reinforced structures never before possible. Markforged technologies are delivered with thoughtful, powerful software designed for collaboration, sharing, and scaling. For more information, visit http://www.Markforged.com.