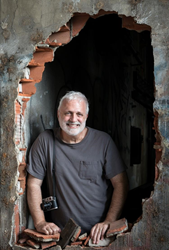 KEH Announces New Position to Support the Photographic Community
Atlanta GA (PRWEB) August 16, 2017
KEH, an Atlanta-based photographic recommerce company announced that Mark Maio has been appointed to lead the Corporate Ambassador and Philanthropic Division. In this newly-created role, Mark will lead the effort to deepen KEH's commitment to supporting the photographic community of both new and established photographers.
Mr. Maio has over 45 years of experience in the field of photography, and has taught photography at Emory University, Rochester Institute of Technology and the State University of New York at Buffalo. Mark continues to support the photography discipline by conducting fine art photography workshops across the U.S. and abroad. His highly-acclaimed work includes a 12- print portfolio that is included in the permanent collection of the George Eastman House International Museum of Photography.
"We created this role to demonstrate our commitment to the photography community and searched for the person we thought would best represent their passion and interests." comments Joe Castiglione, KEH CEO. "Mark is a true professional, with not only decades of photography experience, he has the artistic talent and passion characteristic of this community."
In this role, Mark will expand KEH reach and impact as the company's brand ambassador and philanthropic leader. "KEH shares my passion for photography and commitment to the community," says Mark. "The company culture, values and goals for supporting and advancing the interests of the worldwide photographic community is a great fit for me," says Mark. "KEH is an established company with a stellar reputation, which makes it easy for me to attach my own name and reputation." Mark will support the KEH's community involvement and engagement, working directly with professional photographers and organizations to identify ways to add greater value and benefit.
"KEH is excited about this partnership," explains Castiglione. "We've invested heavily in back of the house technology, operations and support services, but this position underscores our company's commitment to our customers and photography community. This role is an expression of our desire to create more value and to give back in a significant and purposeful way, and Mark is the perfect person to lead it."
About KEH
KEH is a photographic equipment recommerce company based in Atlanta, Georgia and has empowered more than 1.5 million photographers to capture their unique point of view. Since 1979, KEH offers an industry leading selection of near new and collectable cameras backed by a world-class inspection process and 180-day guarantee. For more information, visit http://www.KEH.com.