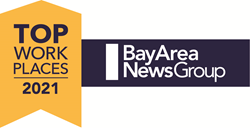 We have reached 102 years of business success because we have the most innovative, dedicated, and focused team that works as a family unit. Laura Markstein, President of Markstein Sales Co.
ANTIOCH, Calif. (PRWEB) August 25, 2021
Markstein Sales Company, the largest woman-owned and operated wholesale beverage distributor in Northern California, has been selected as a 2021 Top Workplaces by Bay Area NewsGroup. The list is based solely on employee feedback gathered through a third-party survey administered by employee engagement technology partner Energage LLC. The anonymous survey uniquely measures 15 culture drivers that are critical to the success of any organization: including alignment, execution, and connection, just to name a few.
This award comes as Markstein Sales Co. celebrates 102 years in business that has included challenges such as prohibition in the early years, to the pandemic in this most recent year. As an essential business during COVID-19, the Markstein team has continued to find new and safe ways to help customers keep their business well stocked, and launched multiple new brands eagerly accepted by consumers.
"We have reached 102 years of business success because we have the most innovative, dedicated, and focused team that works as a family unit," said Laura Markstein, President of Markstein Sales Co. "This past year, we had to find new ways to work safely and efficiently, remotely and on site, and our employees rose to the occasion developing business processes and outreach programs that were in the best interest of our customers and brands. We say 'It's like family here' because no matter what role or responsibility an employee plays, they are an instrumental member of the team that contributes to the company's overall success."
Community Support
In addition to working through COVID-19 solutions for its customers and portfolio brands, the Markstein team members also kicked off 2021 by helping their community in the fight against slavery and human trafficking. As a long-time supporter and sponsor of the New Day for Children organization that provides funding to help American children who have been recovered from sex trafficking, Markstein also joined a nationwide campaign with the National Beer Wholesalers Association (NBWA) where beer distributors can play a vital role in identifying and reporting suspicious activity often unseen by the typical public.
Diversity & Inclusion
Markstein Sales Co. is consistently listed as one of the top 10 largest women-owned businesses in the Bay Area and one of Laura Markstein's goals, in her 30 years with the company, has been to close the gap on gender diversity in the beer industry. "With a female president as our guide, Markstein's 180 employees represent the diversity of our community and includes multiple women spearheading leadership roles," said Jennifer Grant, General Manager at Markstein Sales Co. "Several employees have been with the company 10 or more years, with many of those over 15, 20 and up to 40 years of service. That is unusual in any business and is a direct result of the family culture that appreciates and supports the diverse skills and backgrounds each person brings to the team."
"During this very challenging time, Top Workplaces has proven to be a beacon of light for organizations, as well as a sign of resiliency and strong business performance," said Eric Rubino, Energage CEO. "When you give your employees a voice, you come together to navigate challenges and shape your path forward. Top Workplaces draw on real-time insights into what works best for their organization, so they can make informed decisions that have a positive impact on their people and their business."
About Markstein Sales Company
Markstein Sales Company is a fourth-generation, woman-owned and operated wholesale beverage distributor based in Antioch, Calif. Founded in 1919 with just a horse, a wagon and six cases of beer, Markstein is now in its 102nd year and distributing over four million cases annually to 2000 retailers in the Bay Area. The company's portfolio is composed of multiple world-class beers including the Anheuser-Busch InBev and Constellation Brands family of beers, several high-quality craft beers and many others, as well as non-alcoholic beverages. Markstein is known for outstanding customer service, dedication to their employees and commitment to the community. The company continues to rank as best in class by retailers and is one of the top ten largest Woman Owned Businesses in the Bay Area. More information can be found at https://www.marksteinsalescompany.com.
About Energage
Making the world a better place to work together.™
Energage is a purpose-driven company that helps organizations turn employee feedback into useful business intelligence and credible employer recognition through Top Workplaces. Built on 14 years of culture research and the results from 23 million employees surveyed across more than 70,000 organizations, Energage delivers the most accurate competitive benchmark available. With access to a unique combination of patented analytic tools and expert guidance, Energage customers lead the competition with an engaged workforce and an opportunity to gain recognition for their people-first approach to culture. For more information or to nominate your organization, visit energage.com or topworkplaces.com.