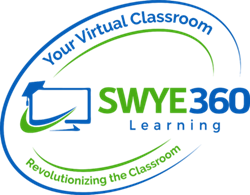 Teachers can contact parents directly in the platform through SMS messaging and schedule virtual parent-teacher conferences, all in one platform
FRISCO, Texas (PRWEB) August 28, 2020
SWYE360 Learning is a fully integrated all in one virtual instruction platform that has partnered with Marquand Zion R-VI school district to provide the district access to their virtual instruction tools. Teachers in MZR6 will be able to manage their learners face to face or in their virtual classrooms from anywhere. The parents will have access to their students' dashboard with a view of all their virtual class sessions, assignments, assessments, and they can easily engage and communicate with their teachers through the platform. Through SWYE360, teachers will be able to create and manage small group instruction, do a deep dive on data based on their mastery, initiate and deliver virtual instruction all in one place without having to manage multiple platforms and logins.
"It puts everything in one place. This will help the younger students and parents with finding assignments. Secondly, the parent contact piece is easy for the teachers to use.", says Scott Blake, the Superintendent of Marquand Zion R6 school district.
"Parents have been overwhelmed with managing multiple applications, links, logins, and knowing which class their student should be in. With SWYE360, that problem is immediately solved.", says Jacob Makuvire, CEO of SWYE360. "Teachers can contact parents directly in the platform through SMS messaging and schedule virtual parent-teacher conferences, all in one platform", Jacob Makuvire continues.
SWYE360 is the only software application on the market that integrates parent communication, virtual teacher conference, student learning outcomes and virtual teacher led instruction. The first of its kind all in one fully integrated solution for schools.
SWYE360 Learning is a collaborative e-learning platform for school districts and teachers to seamlessly deliver direct online instruction to all students regardless if they are in the classroom or at home learning and with all the reporting tools available for tracking attendance.
About SWYE360
SWYE360 is the only fully integrated collaborative e-learning platform designed as a virtual instructional tool to support teachers, students, parents, and district leaders. With SWYE360, schools manage content, manage learners, deliver virtual instruction, and communicate directly with parents, all in one place.