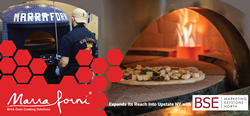 "These changes allow us to continue to elevate the level of our service and support to our customers and to strengthen our positioning within the market. We're excited to expand our business and markets served with the BSE Organization." Francesco Marra, Marra Forni's President and CEO
BELTSVILLE, Md. (PRWEB) April 29, 2021
Marra Forni, a global manufacturer of commercial brick oven solutions based in Beltsville, MD, has announced a change in representation in (MAFSI Region #2). Based in Rochester, BSE North is a new division of BSE Marketing (headquartered in New Hyde Park, NY), and will service and support the Marra Forni product lines in the Upstate New York marketplace.
Joe Niedzwiecki, Managing Director of the newly formed BSE North, stated that "BSE Marketing is thrilled to expand our successful downstate partnership with Marra Forni and now represent and support their products Upstate as well. Francesco Marra, Marra Forni's President and CEO commented that "these changes allow us to continue to elevate the level of our service and support to our customers and to strengthen our positioning within the market. We're excited to expand our business and markets served with the BSE Organization."
BSE North will provide the region with a focused sales and culinary approach with the addition of new field resources and a test kitchen that will be used for sales and product demonstrations, training, and culinary ideation, and R&D. Todd Griffith, VP of Sales & Marketing said "I've been working with Jeff Hessel and his team for more than 30 years and have continued to grow and expand the business and partnership with BSE throughout that time. We look forward to seeing the same success with BSE North in the Upstate NY Region."
Marra Forni based in Beltsville, MD, is a leading domestic manufacturer and global supplier to the commercial foodservice Industry. The product line includes a full line of brick-oven cooking solutions, refrigerated prep tables, mixers, slicers and direct venting. Marra Forni currently sells and supports its products in 5 continents and 23 countries worldwide.
marraforni.com | 888.239.0575