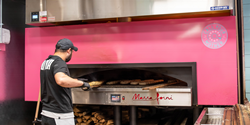 "We're so stoked to get cooking in our new Marra Forni oven. We hope you're hungry... and thirsty." -Fire & Nice Alehouse Twitter
BELTSVILLE, Md. (PRWEB) October 29, 2020
Marra Forni, the Beltsville, MD based manufacturer of Brick Oven Cooking Solutions, announces its newest innovation, the MS Oven Series. Over the years many restaurateurs give up the dream of a top-quality, high-performance oven due to their tight kitchen configurations. But that doesn't need to be the case. When Marra Forni developed the MS Oven Series Brick Ovens, for example, they designed them specifically to accommodate high volume pizza making, bakery production, and more, while maximizing kitchen space utilization. Best of all, the latest innovation allows you to enjoy the same cooking performance and aesthetic appeal that all Marra Forni brick ovens are known for.
Whether the MS Oven Series Oven is used for low-temperature roasting and braising, grilling, cast iron pan-searing, or more traditional fire-roasting and live-fire pizza making, you can count on the same consistent cooking results every time.
"We're so stoked to get cooking in our new Marra Forni oven. We hope you're hungry... and thirsty." (Fire & Nice Alehouse Twitter)
All MS Oven Series Brick Ovens come standard with a fire-rated tile clay dome and are available as either Gas, Wood-fired, or Electric configurations. Customizing the ovens is a great solution for many clients. When speaking with Mia's Italian Kitchen, Alexandria Living Magazine stated: "Mia's sizable pizzas are square, and that required a uniquely designed custom oven. Marra Forni, the same company that built the ovens in use at ARP's restaurants Lena's Wood Fired Pizza and Palette 22, created this is one-of-a-kind design specifically for Mia's with a rectangular base and hand-formed bricks."
Call Your Mother Deli's co-owner, Andrew Dana also noted; "for the most part, people who make ovens are not down for making custom, and Marra Forni went the extra step to create what we wanted."
Aesthetically speaking, the custom ovens can really add to the appeal of a venue. National foodservice design firms such as Next Step Design mention "A highlight of one of the design projects features an exhibition kitchen, flanked by five seats, that features a custom Marra Forni pizza oven with bright blue tile."
The MS Oven Series features 11 different models. The dome and deck consist of refractory bricks with multi-layered insulation in the dome and in the deck. Standard features on this oven include an Easy to Use Touchscreen, Refractory Brick Deck and Dome, Forced Air Power Burner, Black Powder Coat Stand/ Façade Door/Fire Suppressor, Stainless Steel Flue Collar/Adaptor, 2 Year Deck and Dome Warranty, and 1 Year Parts and Labor Warranty.
The optional features include Color Powder Coated Body, Stainless Steel Body, Custom-High-temp Vinyl Decal, Customized Direct Venting, with Powered Exhaust Fan, Enclosed Façade, and Interior Lights.
Marra Forni is a leading domestic manufacturer and global supplier to the commercial foodservice Industry. The product line includes a full line of brick-oven cooking solutions, refrigerated prep tables, mixers, slicers. Marra Forni currently sells and supports its products in 5 continents and 23 countries worldwide.
marraforni.com | inquiries@marraforni.com | 888.239.0575