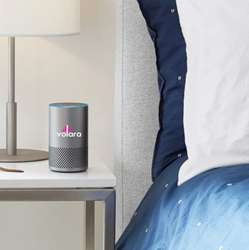 Volara is proud to be partnering with Marriott International to bring voice-enabled experiences to Marriott's guests.
NEW YORK (PRWEB) September 26, 2018
Volara – the voice hub for the hotel industry – announces that it has been selected by Marriott International Inc. as its official and exclusive partner for its pilots of voice technologies. Volara's software provides conversation management and secure integrations for 98 percent of the hotels using Alexa technology in the United States today.
Marriott, will benefit from Volara's software which enables voice-based conversations with their guests to be managed in real-time on any natural language processing platform. Marriott will also benefit from Volara's patent pending Accuracy Engine, which ensures guests receive the information or service they requested, and its secure integrations hub, which provides a voice interface for the existing technologies used in the hotel.
As part of the relationship, Volara will be launching an integration with Marriott's proprietary workorder- management system. This integration will enable guests to request hotel services just by speaking.
Marriott is using the Volara platform during its evaluation of Amazon Alexa technologies at the Marriott Charlotte City Center and Marriott Irvine Spectrum in October.
"Volara shares Marriott's commitment to guest privacy and the need to deliver quality experiences," said Scott Hansen, Marriott Senior Director of Guest Technology for Global Operations. "Making sure our guests are inspired and engaged during their stay is important to us. This partnership will help Marriott evaluate opportunities through voice that will guide our approach to better serving guests in our hotels."
"Volara is proud to be partnering with Marriott International to bring voice-enabled experiences to Marriott's guests," said David Berger, Volara CEO. "With our technology, guests at Marriott hotels will be understood by voice technologies like Amazon's Alexa more accurately and securely than they are at home, resulting in an improved guest experience that ensures they get what they want when they want it."
– # # # –
About Volara
Volara is THE provider of custom voice-based solutions for the hospitality industry. It's the only provider of voice-based solutions to the hospitality industry with the Alexa for Business Service Delivery Designation from Amazon and is a launch partner of Alexa for Hospitality. Volara's proprietary software creates a hotel business tool atop the leading smart speakers and natural language processing platforms. Volara's proven best practices ensure high utilization rates and an optimal guest experience that creates personal and remarkable engagement with brands. Volara is the largest manager of Alexa devices in the enterprise today and over a million people have used voiced-based solutions powered by Volara. To learn more about Volara, visit https://volara.io/.