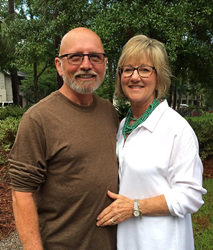 As we've launched this business, we've truly enjoyed being able to help older folks. Sure, sometimes you need a bathroom remodeled, but we had a client call because they needed someone to hang curtains. We are here and no job is too small. - Marshall Brewer
AUGUSTA, Ga. (PRWEB) January 13, 2021
Marshall and Rachel Brewer have always been passionate about helping people. Now the local couple is pleased to announce that they're launching a business to help people enjoy their homes and age in place – TruBlue Total House Care of Augusta. TruBlue of Augusta works throughout the Central Savannah River Area.
Clients looking for dependable, high-quality, individual services can hire TruBlue for handyman repairs, cleaning services, yard work, seasonal services and minor home renovations. TruBlue also works with homeowners, realtors and rental property owners who need to get homes move-in ready quickly and keep them maintained as well as business clients.
However, the Brewers are most excited about TruBlue's suite of senior-focused services, including the ability to do Senior Home Safety Assessments, make age-friendly renovations and offer House Care Plus, a regular service program that can help seniors enjoy the comforts and convenience of owning a home without worrying about the maintenance hassles.
"When our parents lived with us, we took great care to make sure our homes were safe, but now that we're Senior Home Safety Assessment Certified, we realize there are things we hadn't even considered, like swapping door handles or getting rid of area rugs. Most seniors want to stay in their homes for as long as possible and, with some relatively minor adjustments and regular maintenance, its more feasible than ever," Rachel said.
"As we've launched this business, we've truly enjoyed being able to help older folks. Sure, sometimes you need a bathroom remodeled, but we had a client call because they needed someone to hang curtains. We are here and no job is too small," Marshall added.
Marshall retired from Austin Industrial after 43 years. Rachel retired from Aiken Augusta Oral Surgery after 19 years. While the two retired from their first careers, they weren't quite ready to call it quits.
"We're retired from our first careers, but we love to stay busy and we wanted an opportunity to make a real difference in the lives of seniors and other people in our community. TruBlue is a great opportunity to serve our region and do something we enjoy while continuing to stay an active part of our community," Marshall said.
TruBlue of Augusta is licensed, bonded and insured. To learn more about TruBlue of August, call 706-397-5667 or 706-755-7419, email MBrewer@TruBlueHouseCare.com or visit http://www.TruBlueHouseCare.com/Augusta-West.