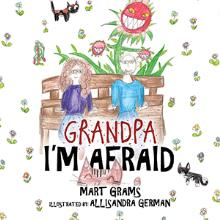 SHAWANO, Wis. (PRWEB) September 12, 2018
Mart Grams' granddaughter is afraid of Halloween. He asked her why and she told him it was because of the masks people are wearing during the celebration. Grams talks with her about being afraid of other things and it gave him an idea to write a book about children who are normally afraid about many things. For more details about the book, please visit https://www.amazon.com/Grandpa-Im-Afraid-Mart-Grams/dp/1984526073.
In his book titled "Grandpa, I'm Afraid" (published by Xlibris), Grams discusses the subject of fear among children. In the book, he and his granddaughters Alli and Sophia engage themselves in a conversation dealing with the most common things they are commonly afraid of which include monsters, the dark, clowns or people in costume, insects, medicine and shots.
"Children are normally afraid of lots of things," Grams points out. "Parents often do not know how to deal with them and their fears. This book gives readers an example of a conversation between me and my granddaughters to help both parents and children."
The publication of "Grandpa, I'm Afraid" hopes to make readers realize that fear is a common situation children live through. Grams believes that it is OK to be afraid, but parents should also help their children deal with them correctly to help ease these basic childhood fears properly.
"Grandpa, I'm Afraid"
By Mart Grams
Hardcover | 8.5 x 8.5in | 26 pages | ISBN 9781984526083
Softcover | 8.5 x 8.5in | 26 pages | ISBN 9781984526076
E-Book | 26 pages | ISBN 9781984526069
Available at Amazon and Barnes & Noble
About the Author
Mart Grams is a retired teacher and a widower with two sons and granddaughters from both boys.