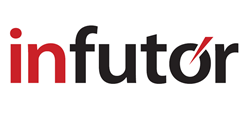 We're excited to work with martech leaders like Faraday, Invoca and MQ&C to help increase the reach of their marketing technology solutions by enabling complete and enhanced consumer profiles through Infutor's robust Identity Graph - Infutor CEO Gary Walter
OAKBROOK TERRACE, Ill. (PRWEB) October 16, 2018
As the martech landscape evolves and more providers emerge, innovative organizations recognize the impact consumer identity management expert Infutor brings to their offerings. Today, Infutor announced that three more martech providers including AI marketing platform Faraday, call tracking and analytics provider Invoca and digital agency MQ&C Advertising have partnered with Infutor, through their real-time data-driven suite of services to help deliver increased insights and lead conversions for their clients.
"Marketing technology organizations are increasingly relying on consumer identity and profile data to further deliver actionable insights for their clients," said Gary Walter, president and CEO, Infutor. "As the authority in consumer identity management, we are excited to work with martech leaders like Faraday, Invoca and MQ&C to help increase the reach of their marketing technology solutions by enabling complete and enhanced consumer profiles through Infutor's robust Identity Graph."
AI marketing platform Faraday uses advanced machine learning techniques to optimize revenue outcomes, from acquisition to lead conversion and retention for its B2C customers. Faraday selected Infutor to better address lead qualification and handling prioritization which often required manual processes that took hours to resolve. Andy Rossmeissl, CEO of Faraday said, "By leveraging Infutor's real time data with our technology offerings, we can instantly resolve multiple consumer identity markers such as email, name, and address to a single identity and better predict which leads will convert. Based on their robust real-time API technology, we've been able to greatly improve speed-to-market as well save thousands of dollars by eliminating manual processes. From day one, Infutor has treated us with white glove service and delivered tremendous capabilities that many other data players weren't able or willing to do."
Invoca, which provides AI-powered call tracking and analytics solutions for digital marketers, required richer insights to infuse into their call tracking solutions to drive more actionable data points and product value to their clients. Infutor is able to instantly deliver to Invoca complete identity data on each inbound caller as well as attribute-driven profile enhancements, such as income, homeownership, age, and more, that enable personalized profile development with a single consumer identity marker – the consumer's phone number. "Infutor helps our customers understand who is calling. Coupled with the information about why they're calling that Invoca provides, these rich consumer profiles enable better personalization for an optimal customer experience, ultimately leading to better conversations and more revenue," commented Lauren Harris, Director of Product Management, Invoca.
Digital agency MQ&C Advertising tapped Infutor for more accurate identity markers -- phone, email, names and addresses -- to improve lead match rates, weed out low-quality leads, increase scale, enhance demographic segmenting and continue adding value for clients. Added Jarrod Thuener, Chief Analytics Officer for MQ&C Advertising, "Using Infutor to accurately identify incoming leads, has helped score leads and re-prioritize the call center operations resulting in as much as a 20% lift in conversion rates."
Consumer identity management is a foundational, data-driven practice enabling martech providers to instantly know what they need to about consumers in order to make informed inbound and outbound marketing decisions. Infutor's robust Identity Graph includes more than 260 million identity profiles, with daily updates, and a suite of identity resolution solutions that leverage this data to improve scale and lead qualification, drive tech stack value, link siloed data sources, enhance personalization and segmentation and add powerful predictive insights.
About Infutor
Infutor is the expert in data-driven consumer identity management. The company is solely focused on enabling brands to instantly gain access to the most complete and accurate information about consumers, exactly when they need it, to make informed marketing and risk mitigation decisions. Infutor's mission is to deliver solutions that accurately identify consumers before, during and in-between engagements, giving brands a secure, privacy compliant foundation to improve inbound engagement and outbound omnichannel marketing reach, and to minimize losses due to fraud and non-payment. Led by information industry veterans, Infutor is a privately held company founded in 2003 with strategic investments from Norwest Venture Partners. Infutor is headquartered in Oakbrook Terrace, Ill. For more information, visit http://www.infutor.com.