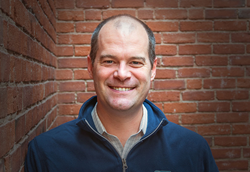 BOSTON (PRWEB) May 14, 2019
BlueConic, the world's leading customer data platform (CDP), today announced that Alex Lee has joined the company as senior vice president of Global Sales. In this role, Lee will manage the company's growing sales team to meet the significant demand from brands for a CDP that can unify and activate first-party customer data in real time while also complying with individual privacy regulations - all within a single, marketer-controlled solution.
"Alex brings a wealth of experience selling marketing technology to enterprise organizations in both the US and European markets," says Bart Heilbron, CEO of BlueConic. "He's helped marketers build a business case for martech investment when they needed it. Alex is deeply familiar with today's marketing challenges and understands how the architecture of our CDP is in a unique position to not only solve for their challenges and needs of today, but also of tomorrow - thanks to the pluggability of the platform."
Lee comes to BlueConic from Salesforce, where he was Regional Vice President of Enterprise Corporate Sales. At Salesforce, Lee worked with enterprise accounts and retailers who were investing in the marketing cloud. Prior to Salesforce, Lee led sales teams at Cantina and Forrester Research, where he grew the analyst firm's presence in Europe.
"Since its inception in 2014, BlueConic has been a known leader in the crowded CDP space and has been largely responsible for defining the category. I'm excited to be part of this team with a clear vision and focus," says Lee. "The CDP space has only become more confusing as less-purpose built mar-tech solutions re-position to take advantage of the momentum in the market. BlueConic was designed and built from day one to help marketers unify and activate their first-party data. As we scale to meet the demand for BlueConic's solution, we help our customers push boundaries when it comes to liberating data with new product features like AI Workbench. I'm thrilled to lead the sales teams to the next level - and more importantly, solve some of marketers' biggest data challenges with the right strategy and best-fit technology."
Learn more about BlueConic's leadership team.
About BlueConic
BlueConic, the world's leading customer data platform, liberates marketers' first-party data from all the disparate systems in which it exists, and makes it available wherever and whenever it is required for marketing. Nearly 300 consumer and B2B brands, including Hearst Newspapers, Moen, T-Mobile, ING, America's Test Kitchen, and American Kennel Club, leverage BlueConic to unify their first-party customer data into robust, person-level profiles, and then activate it across their marketing ecosystem. Founded in 2010, the company is headquartered in Boston, with offices in Europe. Follow us on Twitter and LinkedIn @BlueConic.