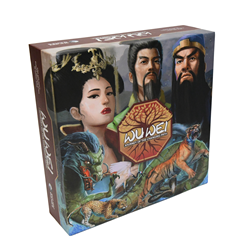 Wu Wei is a rare game with the elegance of an abstract, yet every detail contains deep meaning.
SANTA ROSA, Calif. (PRWEB) November 28, 2018
Gray Wolf Games founder and Wu Wei creator Justin Waggle, said "We've successfully fulfilled our Kickstarter campaign and now I'm really excited to have the game available for board game enthusiasts everywhere. It's the first ever board game that incorporates Taoist cosmology and martial arts principles."
In this game, "students" are led on a journey to earn five animal cards (representing the legendary five animals from Shaolin Kung Fu) while their master maintains their lineage and cultivates chi. Waggle designed the game for one to six players with games averaging about 45-90 minutes in length.
Wu Wei comes with three levels of play and an engaging solo campaign. At the highest level of the game, Waggle designed Wu Wei so it goes from symmetrical to asymmetrical as one player takes on the role of the emperor and works to unite his people under one banner.
The reviews from the board gaming community have been positive. Lance Myxter from Undead Viking Videos said, "Wu Wei presents the players with fun and interesting choices and it has a very open feel to it. I never felt hemmed in…is it fun? Yeah! Lots of fun!"
"Wu Wei is a rare game with the elegance of an abstract, yet every detail contains deep meaning," commented Teal Fristoe, who designed Corporate America and Shadow Throne.
The Gray Wolf Games website gives an overview of how to play; features a number of illustrations showing the game's board, cards, scenarios, and game pieces; and offers a free PDF download of the Wu Wei rulebook.
Waggle believes the game will appeal to a number of different groups, including board game players, martial artists, travelers on a spiritual path, as well as enthusiasts of Asian cultures. "Developing the game was a long process. I worked with a number of artists, designers and game developers along the way and sent prototypes out to people around the world to get their feedback," he explained.
"Games represent one of the best ways for communicating big ideas. They keep our minds active and open and provide a unique opportunity for interacting with one another. What could be better than having fun, hanging out with your friends, and unlocking the secrets of the universe?" Waggle asked.
Waggle founded Gray Wolf Games, LLC in 2017. The Wu Wei Kickstarter campaign (https://www.kickstarter.com/projects/graywolfgames/wu-wei-journey-of-the-changing-path) raised nearly $27,000 with almost 400 pledges. The game is now available for sale around the world and more details can be found on the Gray Wolf Games website (https://graywolfgames.com/wuwei/).