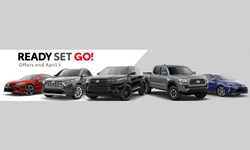 MARTINSBURG, W.Va (PRWEB) March 15, 2019
Ah, springtime. After the busy holiday season, the weather is getting warmer, the sun is out longer and it's time for some spring cleaning. However, even after cleaning a vehicle inside and out, it can still be time for a change. That's why now is the perfect time to buy a new vehicle, as Apple Valley Toyota, a new and used Toyota dealership in Martinsburg, is hosting the Toyota Ready Set Go! Sales Event.
During the Toyota Ready Set Go! Sales Event, drivers will be able to find tons of great deals to buy, finance and lease the newest Toyota models in stock. For example, car shoppers can finance the 2019 Toyota Camry or Corolla for as low as 1.9 percent APR financing for 60 months, lease the Camry for $229 per month for 36 months with $2,739 due at signing or even lease the Corolla for $259 per month for 36 months with $2,699 due at signing. Other popular Toyota models such as the 2019 RAV4 can also be leased for just $229 per month for 36 months with $2,899 due at signing.
There are many clear differences between financing a vehicle and leasing a vehicle that drivers should note before making their decision. For example, when financing, drivers fully own the vehicle. Financing also makes it easy for people to make monthly payments on their car and can even sell the car when they want a new one. With leasing a vehicle, drivers are essentially borrowing the car, but can usually drive newer models they otherwise couldn't afford and don't have to worry about wear and tear issues, as the vehicle is likely still under the manufacturer warranty.
Apple Valley Toyota is a full-service car dealership that specializes in new and used Toyota models. Hurry, because these deals end on April 1, 2019. Those interested in shopping for or test driving a new Toyota vehicle during the Ready Set Go! Sales Event can contact the dealership at http://www.applevalleytoyota.com for more information. Car shoppers can also get in touch with a representative directly by dialing 304-263-3341.