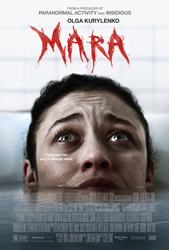 Mary Aloe announces Olga Kurylenko as a criminal psychologist who, upon investigating the murder of a man, begins to uncover that this is tied to demonic attacks in MARA.
BEVERLY HILLS (PRWEB) September 07, 2018
Mary Aloe, producer, Aloe Entertainment, Solution Entertainment Group, Mannmade Films, Grodnik/ Aloe Productions, 120db and Digital Ignition Entertainment are pleased to announce Saban Films' release, theatrically and on VOD today. MARA stars Olga Kurylenko ("Quantum Solace," "Oblivion"), Javier Botet ("Mama," "Crimson Peak," "The Mummy") and Craig Conway ("Doomsday"). The film is directed by Clive Tonge and written by Jonathan Frank. The critics have spoken with Olga Kurylenko, Javier Botet and Craig Conway's performances as "outstanding."
Producer Mary Aloe stated, "Sleep paralysis is experienced by 42% of all people across the world. The word, 'nightmare,' comes from the word, Mara, which evokes a 'waking nightmare' in between the world of sleep and being awake, often with the presence of a demonic entity in the room."
About Mary Aloe and Aloe Entertainment:
Aloe Entertainment is one of Los Angeles' most prolific independent production companies. The Los Angeles based feature film/television company was created in 1999 by Mary Aloe. Mary Aloe and Aloe Entertainment produces and finances individual pictures and slates of movies. Aloe Entertainment specializes in developing/producing independent features, television series, and network and cable event movies. Mary Aloe and Aloe Entertainment specialize in obtaining 100% financing for features by raising private equity; working with hedge funds, gap financing, top tier foreign sales companies and securing domestic distribution. As well, Mary Aloe's vast knowledge of P and A financing was recognized when she was brought in to run a 50 million dollar P and A fund for Merrill Lynch. Producer Mary Aloe and Aloe Entertainment, along with her development team, have produced a record ten features in the last four years alone including Weinstein's "Wild Oats" starring Shirley MacLaine and Jessica Lange, Sony's "55 Steps" starring Hilary Swank and Helena Bonham Carter which premiered in the competition at the Toronto Film Festival 2017 will be released theatrically and on VOD through Sony Pictures and Vertical Entertainment in October 2018, Screen Media's "Mothers and Daughters" starring Susan Sarandon and Sharon Stone, "Dear Dictator" starring Sir Michael Caine, and the Sundance Film selected film with Screen Media "Ten Thousand Saints" starring Ethan Hawke, Hailee Steinfeld and Emil Hirsch. In Q 3 of 2017 Mary Aloe produced and financed Beast of Burden with E ONE and Voltage Pictures starting Daniel Radcliffe. In Q 4 of 2017 Mary Aloe produced and financed "Killerman" starring Liam Hemsworth. In 2018, Producer Mary Aloe just wrapped "Disturbing the Peace" with Guy Pearce, EOne and Voltage Pictures. In January 2019, Mary Aloe and the Aloe Entertainment team will be producing "Flight of the Swallow," in Bucharest.