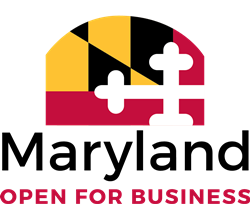 Diversity and equal opportunity are found across Maryland communities. In fact, Bloomberg placed Maryland at the top of its U.S. Gender-Equality Leadership Ranking for three years running, and Entrepreneur placed Baltimore among the top cities for minority entrepreneurs.
BALTIMORE (PRWEB) May 12, 2022
The Maryland Marketing Partnership, created by Governor Larry Hogan in 2016 to help drive Maryland's branding and marketing efforts to attract businesses, create jobs, and grow the state's economy, today shared a summary of the latest news from companies and organizations that are part of the partnership.
"Seeing these Maryland companies grow and give back to the community represents an enormous piece of what makes Maryland special," said Tom Riford, executive director of the Maryland Marketing Partnership. "Diversity and equal opportunity are found across Maryland communities. In fact, Bloomberg placed Maryland at the top of its U.S. Gender-Equality Leadership Ranking for three years running, and Entrepreneur placed Baltimore among the top cities for minority entrepreneurs."
BGE, Maryland's largest natural gas and electric provider serving 1.3 million+ electric customers and 690,000+ natural gas customers, launched a new Racial Equity Capital Fund in partnership with Exelon and the Exelon Foundation. The $36 million fund will expand access to capital for minority businesses so they can create more jobs, grow their companies, and reinvest in their communities. Businesses located in the communities served by BGE and Exelon's five other utilities are eligible to apply. RockCreek, a diverse-owned fund manager, will oversee the fund and make investment decisions. Interested applicants should contact RockCreek at RECFInquiries@therockcreekgroup.com or visit Racial Equity Capital Fund.
Bozzuto, based in Greenbelt, has been named an Inaugural Honoree of the Bisnow Rise Initiative, which recognizes measurable progress for Diversity, Equity and Inclusion (DEI) in the real estate industry. Bozzuto launched its Community Forum Program in 2014 to bring together employees to collaborate on diversity and inclusion. This led to the formation of its seven Employee Resource Groups (ERGs) that offer associates opportunities to bond over shared experiences, learn about new perspectives, and gain leadership experience. ERGs are employee-led and are guided by Bozzuto's ERG Leadership Toolkit. They host membership meetings, build relationships and plan meaningful programming, professional development, and community service projects.
Clark Construction Group announced an expansion plan that will increase the company's footprint in the Mid-Atlantic region. Driven by national and regional growth, the plan includes opening a new 128,000 square-foot office in McLean, Virginia, doubling the size of its office space in Baltimore, and maintaining an office in Bethesda. Through this office expansion, Clark is reinforcing its longstanding commitment to the region it has called home since its founding in 1906.
Eastern Watersports, based in Baltimore, is proud to announce a partnership with Weller Development to open a new watersports location at Port Covington Marina in Port Covington. This is the second new location to open up for the 2022 season. Eastern Watersports is opening a location inside the Cunningham Falls State Park.
Harbor East Management Group, based in Baltimore, is hosting its Vine in Vogue at Harbor East on Saturday, May 14 from noon - 4 p.m. on Aliceanna Street. Attendees will taste wines from neighborhood restaurants as they stroll through the neighborhood, shopping and sipping as they go. Tasting tables will line the sidewalks of Harbor East, with sommeliers and wine experts offering pours of various wines from their respective venues. Tickets are available at: https://www.harboreast.com/event/6th-annual-vino-in-vogue-at-harbor-east/. Harbor East Management Group also announced that trendy Baltimore retailer Brightside Boutique will move its store to 830 Aliceanna Street in Harbor East this summer.
High Rock's sister company, Warehouse Cinemas, both based in Frederick, attended and spoke on a panel at this year's CinemaCon in Las Vegas. Warehouse Cinemas was included in news articles by CNBC, Reuters, Time, and more. The Maryland movie theatre company recently announced its third location will be opened as early as Fall 2022.
Kaiser Permanente, based in Rockville, and Bon Secours Community Works unveiled a new community resource center in West Baltimore. The organizations, along with the Anchor Group, elected officials, and residents celebrated the grand opening of the Bon Secours Community Works Community Resource Center in West Baltimore with an open house and ribbon-cutting ceremony. The state-of-the-art Community Resource Center was specifically designed by and for the West Baltimore community providing programs for youth, financial education, and workforce development. This center extends Kaiser Permanente's commitment to addressing social determinants of health by improving access to educational, economic and wellness resources for West Baltimore residents.
Peterson Companies, a longtime Maryland business, announces the opening of True Food Kitchen at rio, Gaithersburg's premier open-air shopping, dining and entertainment destination. True Food Kitchen, the award-winning, seasonally-inspired restaurant opened on April 25 and includes a picturesque outdoor covered patio overlooking rio's lakefront. Another new addition, Donutchew, specializing in Asian-inspired Mochi donuts, will open its first Maryland location at rio later this month. True Food Kitchen and Donutchew join over 50 national brands, unique boutiques, and eateries in rio's vibrant waterfront setting, offering an unmatched experience in the heart of Montgomery County.
Maryland pride retailer Route One Apparel, based in Towson, recently launched a new product line celebrating the 100th anniversary of Domino Sugar, as well as a new line of t-shirt designs created in collaboration with local satirical news site Baltimore Humor. Route One Apparel is also gearing up to launch the 2022 edition of its "Down The Ocean" gift box. This exclusive set features five Maryland beach-themed essentials for a perfect beach day, including a double-sided beach towel, a silicone pint glass, beach sand spike, and two different can coolers, all for just $45. All products are available at http://www.routeoneapparel.com.
St. John Properties, Inc., based in Baltimore, projects to deliver 23 buildings, totaling over 880,000 square feet of Class 'A' commercial office, flex/R&D, retail, and warehouse space across its national portfolio in the coming year. St. John Properties is also continuing its mission to develop sustainable buildings while maintaining indoor environments that promote employee wellness and conserve energy, and expects to have 100 LEED-certified buildings by year-end. Additionally, St. John Properties has attracted two new companies to Waugh Chapel Business Park in Anne Arundel County. Albireo Energy, LLC has signed a lease for 18,830 square feet of space, and Annapolis Site Development has leased 4,966 square feet of space within the 24-acre mixed-use business community.
TEDCO, based in Columbia, launched a new diversity, equity and inclusion initiative, and made recent investments in these Maryland-based start-ups: SafeCheck and Dogwood Gaming. In collaboration with the Howard County Government, TEDCO created the Open Institute for Black Women Entrepreneur Excellence. TEDCO also supported Maryland STEM entrepreneurs in receiving additional funding to include NasaClip, its Urban Business Innovation Initiative providing assistance to small, start-up companies in the state, and Maryland's Eastern Shore entrepreneurs benefited from resources to grow their business. Catch the latest interview with TEDCO portfolio company, PerSoN Clinic, and the latest TEDCO Talks interview with Jamie McDonald, Upsurge Baltimore.
About Maryland Marketing Partnership
The Maryland Marketing Partnership, founded in statute as the Maryland Public-Private Partnership Marketing Corporation, develops branding strategy for the state, markets the state's assets, and encourages the location and growth of new businesses in Maryland.