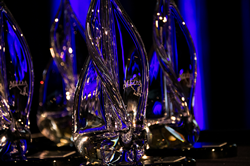 "The 2020 winners exemplify the Maryland communities that are going above and beyond when it comes to economic expansion and prosperity," says Pamela Ruff, MEDA executive director.
BALTIMORE (PRWEB) March 09, 2020
The Maryland Economic Development Association (MEDA) is proud to announce the winners of the 2020 MEDA Awards. The 2020 awards, sponsored by Miles & Stockbridge P.C., recognize the exceptional people, programs and projects that bring economic prosperity to Maryland.
"We'd like to thank all who submitted a nomination for recognizing such deserving programs, projects and individuals, and our awards judges for their hard work determining the winners," says Pamela Ruff, MEDA executive director. "The 2020 winners exemplify the Maryland communities that are going above and beyond when it comes to economic expansion and prosperity."
Winner of the 2020 MEDA Economic Development Program Award is the University System of Maryland (USM) Maryland Momentum Fund. The Maryland Momentum Fund invests in technology-based startup companies affiliated with any of the 12 USM institutions.
Project C.O.R.E. (Creating Opportunities for Renewal and Enterprise), a project of the Maryland Department of Housing and Community Development, and Project Bright Future, a project of Queen Anne's County Department of Economic and Tourism Development, receive honorable mentions in the Economic Development Program category.
The winner in the 2020 MEDA Economic Development Project Award category is Kite Pharma, Inc., A Gilead Company. Kite Pharma's 279,000 square foot biologics manufacturing facility, located in Urbana, Maryland, will be completed in 2020. The company is projected to hire 400-700 employees by 2025.
The Union Collective earns an honorable mention in this category for its transformation of a Baltimore-based industrial space into a thriving and vibrant retail cooperative.
The 2020 MEDA Award winner in the Economic Development Marketing category is TEDCO's Entrepreneur Expo. Due to its strategic marketing, which made use of digital and multimedia advertising, the conference drew over 1,000 attendees for a day of pitching opportunities, workshops and roundtable discussions.
Four individuals were also winners of MEDA Awards. James "Jim" Fielder, Jr., Ph.D., Secretary of the Maryland Higher Education Commission, is the newest inductee into the MEDA Hall of Fame. Allison Akers, Marketing & Outreach Manager at Anne Arundel Economic Development Corporation, is named the 2020 MEDA Rising Star. Dr. Peter "Pete" Kremers of Frederick Health is selected as Volunteer of the Year for his work on the City of Frederick's Color on the Creek initiative. Anirban Basu, chairman and CEO of the Sage Policy Group, is this year's MEDA Outstanding Contributor.
The MEDA Awards annually recognize Maryland's best projects, programs and individuals involved in economic development. Awards will be presented during the 2020 MEDA Annual Conference this May. To learn more and register for the awards dinner on May 4, 2020, visit https://www.medamd.com/event/2020-meda-annual-conference/.
About MEDA
MEDA is a nonprofit organization of economic development professionals. Established in 1961, MEDA members promote the economic well-being of Maryland by working to improve the state's business climate and the professionalism of those in the field of economic development.
MEDA's membership includes economic development practitioners employed by government, businesses, and chamber of commerce and other professionals with interest in the economy of Maryland. Through its regular meetings, special programs and projects, MEDA members address such diverse issues as local planning, workforce, transportation, international trade, tourism and finance.
MEDA members work diligently transforming lives by creating opportunities, inspiring innovation and enriching communities in Maryland. To learn more about MEDA, visit http://www.medamd.com.