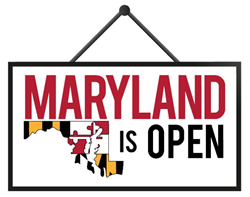 "So many of the local Maryland Businesses we work with have been affected by having to close or limit their offerings."
BALTIMORE (PRWEB) August 04, 2020
Maryland Is Open provides updates on safety precautions, operating hours, venue adjustments, and more. The site features an interactive map of local business locations and all related information with a quick click.
The pandemic hit local businesses the hardest and Maryland Is Open is dedicated to assisting them get the attention they need at no cost. Some benefits for businesses listed on MarylandisOpen.com include:
Increased visibility and consumer awareness
Maryland-only listings
Monetary investments in site and marketing Maryland Businesses
Partnerships with local counties and corporations
Exposure to new audiences
Podcast featuring local businesses
As the state remains in Stage Two of Governor Hogan's Maryland Strong: Roadmap to Recovery plan, business owners are urged to adhere to best practices that ensure the safety of workers and customers alike. Getting listed on Maryland Is Open can help showcase businesses to customers across the state and spread the word about safe services during the stages of reopening.
Baltimore based companies Enradius and The Canton Group collaborated to create Maryland Is Open. The two companies paired their services of digital marketing and geo-targeted advertising with web and software development to create this easy-to-use website that is built for Maryland Businesses and Consumers alike.
"We were excited to partner with The Canton Group in this endeavor, largely due to their Maryland knowledge and IT development work in the government space," said David Carberry, CEO at Enradius. "So many of the local Maryland Businesses we work with have been affected by having to close or limit their offerings. We wanted to provide a place that they could describe their Covid-19 protocol and safety strategies, as well as their hours of operation."
The Canton Group was equally excited to work with Enradius on Maryland Is Open and serve communities throughout Maryland.
"As a business whose home is in the heart of Baltimore's Canton neighborhood, it feels especially important to to be a part of supporting the local Maryland business economy as they reopen and recover. We are all one community together," said Ethan Kazi, CEO of The Canton Group.
Maryland Is Open can also be found on social media platforms including Facebook, Instagram, Twitter, and LinkedIn. Maryland News Network will also be coordinating a regional podcast featuring interviews of business owners and how they are adapting with the changing times.
ABOUT ENRADIUS
Enradius captures the power of the merging of traditional and digital marketing and advertising by providing tailored, customized marketing and ad services targeted to a distinct geographical region or online community. By providing geo-targeted digital advertising, media and marketing solutions, Enradius engages existing customers more often and captures new customers when they are within range of a business and ready to buy, delivering increased sales and profit margins at a lower cost and a better ROI.
ABOUT THE CANTON GROUP
Consistently recognized as the leading web and software development firm in Baltimore, The Canton Group is dedicated to engineering innovative web solutions that help organizations achieve critical business and organizational objectives. The Canton Group has an award-winning team of cross-platform web architects and developers that help organizations use technology to innovate and successfully adapt to rapid changes in the modern digital landscape.
For more information about Enradius visit http://www.enradius.com.
For more information about The Canton Group visit https://www.cantongroup.com.
Media Contact:
Caitlin Collamore
Marketing & Public Relations Intern, Enradius
caitlin@enradius.com
845-825-7119