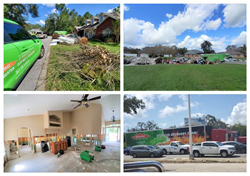 "Given a 24-hour notice, we arrived in Panama City, FL the evening of September 20, 2020 ready to go to work." - Jennifer Lolli-Hall, SERVPRO franchise owner
FREDERICK, Md. (PRWEB) November 10, 2020
Employees from SERVPRO of Frederick County and SERVPRO of Germantown/Gaithersburg recently returned from supporting Hurricane Laura's major flooding, tropical-storm-force winds, and power outages. The Cat 4 storm devastated businesses, demolished buildings, and left entire neighborhoods in ruins across six states. This meant response and recovery teams faced tough challenges with that level of destruction. SERVPRO franchise owners Art Hall and Jennifer Lolli-Hall, know a lot about disaster work and want to share what they learned in hopes that it helps other businesses continue to support affected communities along the Gulf Coast.
"We've never had that kind of devastation in Maryland, but since we knew we had to be self-reliant, we prepared before driving south," said co-owner Jennifer Lolli-Hall. "Not knowing if we were going to be gone for a few days or several weeks, our staff packed trucks with supplies and equipment. Given a 24-hour notice, we arrived in Panama City, FL the evening of September 20, 2020 ready to go to work."
The two Maryland franchises are devoted members of SERVPRO's national network of elite Disaster Recovery Teams. The major event response for Hurricane Laura was their first experience as a national SERVPRO Large Loss Response Team (LLRT). Strategically positioned, SERVPRO has 1,800 franchises across the United States, a noted hallmark of the company because they are prepared to respond Faster to Any Size Disaster.
"Area residents were desperate because they had to wait for the water to go down before we could arrive. There were piles of debris strewn across the landscape. Murky floodwater covered large areas hiding downed power lines and roads. Our team had to be careful. Because of the extensive damage, often they could barely tell where buildings, homes, and even trees stood.," said Lolli-Hall.
We knew the team would be there a week, but it ended up being three. We were prepared, but we also gained practical knowledge that made it more comfortable for our employees and helped them work more efficiently. We hope these tips can help businesses planning to support the Gulf Coast with recovery efforts."
Housing

Vacation rental properties can house the entire crew, provide a full kitchen for meal preparation, and often come with amenities from a hot tub, pool or quiet backyard for downtime.
Stay in centralized lodging to save time vs. driving long distances to work areas.
Ensure the property has adequate parking - especially if traveling with large trucks.
Free Wi-fi means the sleeping quarters can also serve as office space.
Work

Prioritize the jobs by area, type, crew skills and time, whether a few hours, a few days or weeks, for a more efficient workday.
Rent equipment from resources near the job site to boost the economy in the disaster area. It also means there is less to haul when traveling a long distance.
Designate key roles among staff such as laundry, grocery shopping and meal preparation.
Because we sent crews from two of our businesses, a central dispatch made sense for tracking jobs.
Safety

Throughout the deployment, employees on the same crew reduce the chance COVID-19 or other illness could affect the whole team.
Take extra personal protective equipment (PPE) because you may be there longer than expected.
Pack lunches, a lot of water and snacks for a long day because there may be power outages and limited options for meals.
Vehicle signage builds trust with customers and brand awareness for your company.
"In the aftermath of a disaster, no one is ever excited to 'have to see us,' but I do think they appreciate the fact that we try to comfort people as part of our job. It is nice to be able to represent a trusted company with the resources to go anywhere and help people," said Lolli-Hall.
Since 1990, SERVPRO of Frederick County and SERVPRO of Germantown/Gaithersburg have been handling disaster response and mitigation for homes and businesses due to flooding, fire, storm, mold and other types of emergencies. The franchises are locally owned and operated by Jennifer Lolli-Hall and Art Hall.
Jennifer, a licensed realtor, has experience in environmental recovery, including odor removal, bed bug eradication, and air purification. Art has worked for more than three decades in the building trades and general contracting field. He heads up reconstruction helping the franchise provide a seamless "one-stop" service from mitigation through rebuilding.
They provide vital mitigation which minimizes losses, inconveniences, and expenses for residential and commercial customers while also helping people through challenges following a disaster. Highly trained in property damage restoration, SERVPRO employees meet the Institute of Inspection, Cleaning and Restoration Certification standards and best practices in the cleaning and restoration industry. SERVPRO provides emergency services 24 hours a day, seven days a week – including holidays.
About SERVPRO®
Founded in 1967, the SERVPRO franchise system is a leader and provider of fire and water cleanup and restoration services, mold mitigation, and biohazard remediation. SERVPRO's professional services network of more than 1,800 individually owned and operated franchises responds to property damage emergencies ranging from small individual disasters to multi-million dollar large-loss events. Providing coverage in the United States and Canada, the SERVPRO system has established relationships with major insurance companies and commercial clients, as well as individual homeowners.