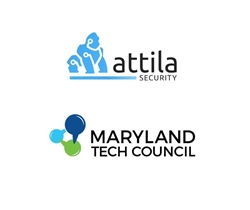 "My team and I are grateful to the MD Tech Council and the judges for awarding Attila this prestigious award," says Gregg Smith, CEO of Attila Security. "We continue to strive to bring simple security to the government and enterprise marketplace"
COLUMBIA, Md. (PRWEB) November 11, 2020
The Maryland Tech Council offers industry awards for tech companies and innovators. Within the technology and life science sectors, over 600 executives are up for awards each year that include recognition for leadership and emerging companies. This collaborative community makes these recognitions with the intent to value members and provides regular resources for learning, sharing and connecting.
Attila Security is an esteemed award winner of the Maryland Tech Council Emerging Technology Company of the Year for 2020.
"Cybersecurity is an issue that affects us all," says Martin Rosendale, CEO of the Maryland Technology Council. "By staying focused on simple to use and effective solutions, the team at Attila Security has mastered the delivery of digital resilience. The Emerging Technology Company of the Year Award is well deserved recognition for their amazing accomplishments."
Attila Security is a Maryland based company co-founded by Gregg Smith—Chairman of the Board at the Cybersecurity Association of Maryland, cybersecurity industry veteran and Chief Executive Officer of Attila—and Vesh Bhatt—formerly of the U.S. National Security Agency and Chief Scientist of Attila.
Their simple vision is to "protect the world by securing the data and information that underpins national security and powers economies." They have brought revolutionary cybersecurity inventions to market. Some of their more recent and acclaimed innovations include the GoSilent Cube.
"My team and I are grateful to the MD Tech Council and the judges for awarding Attila this prestigious award," says Gregg Smith, CEO of Attila Security. "We continue to strive to bring simple security to the government and enterprise marketplace."
The GoSilent Cube is the ultimate application of Attila's belief that security can be simple. The GoSilent Cube is compatible with any IP-enabled device over any connection with minimal configuration requirements. It is a hardware VPN that allows users to outfit any IP-enabled device within minutes. This simplicity achieves top secret level security, including Commercial National Security Algorithms Level Cryptography and IKEv1 with pre-shared, or quantum resistant, keys.
The Cube mitigates captive portal risk by helping users avoid the "Captive Vulnerability Zone." Working from anywhere feels like a freeing reality. The actual truth is that there are risks at every turn. Even the FBI recently warned remote workers against using the wifi in hotels for work purposes. With imminent exploitation and malicious actors posing constant threats, Attila Security provides the right solutions for any kind of user in any location.
The GoSilent Cube is secure enough for the federal government and simple enough for any small business. As teams are more frequently working on a remote basis, the security is supplied as a plug and play operation with infinite value.
Press Contact: if you have inquiries about this news or to get in touch with Attila Security Press Contact Stacy Willis (stacy@brittandstacy.co).