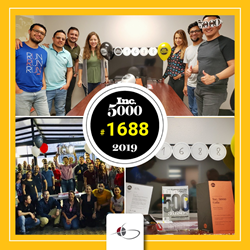 MAS Global Consulting ranks at 1688th in the US, 38th in Tampa, and as the 7th top software company in Florida.
TAMPA, Fla. (PRWEB) August 28, 2019
MAS Global Consulting, a Tampa-based IT consulting firm specializing in the development and integration of custom software solutions, is announcing it has been named for a second year in a row onto the coveted Inc. 5000 list—released annually by Inc. Magazine to recognize outstanding growth.
As a dynamic software development company, MAS Global Consulting has achieved the honor of ranking on the Inc. 5000 list for the second consecutive year, following an arduous qualification process and the objective validation of company revenue data.
Making it into the Inc. 5000 list is an exceptional accolade for MAS Global Consulting, with a rank of 1688th in the US, 38th in Tampa, and as the 7th top software company in Florida.
Many companies seek recognition from both national and global media sources and since 1979 Inc. Magazine has been a guiding light for independently owned small businesses producing a measurable impact in the U.S. economy.
Case in point, the Inc. 5000 list celebrates privately-owned companies that have been founded by and achieved profitability by the end of the first quarter in the calendar year, while measuring the percentage revenue growth for the preceding four years.
MAS Global Consulting's sustainable growth between 2015 and 2018 led the company to qualify into the Inc. 5000 list, further endorsing this woman- and minority-owned software development company as an exceptional player in this industry.
With teams working from both the U.S. and Colombia, among other LATAM locations, MAS Global Consulting continues to serve a diverse range of industries, growing its support of current clients and empowering new clients with the advantage of a lower development cost, while delivering exceptional value not traditionally seen in outsourced development.
"The opportunity to work with clients seeking a capable software development team becomes even more appealing when they discover the compatibility in time zones across locations," says Monica Hernandez, CEO of MAS Global Consulting, who is based in Tampa, Florida.
It should be noted that MAS Global Consulting works with current cloud infrastructures such as Microsoft Azure, Google Cloud, and AWS to serve the needs of businesses who are vested into cloud technology products across multiple services lines, along with a serving the growing demand for custom software development and mobile applications.
Ms. Hernandez adds, "Our clients love the advantage of communicating with fluent English-speaking software development professionals who are in tune with the current technology trends, software development and delivery philosophies, and the ability to respond quickly to clients ever changing business needs."
MAS Global Consulting is committed to remain on the forefront of the digital modernization and software development industries—and the opportunity to rank in Inc. 5000 is a well-received boost of confidence to show their hard work pays off.
It should be noted that the company's Scaled Agile Framework (SAFe) partnership and certification has also led to better Agile outcomes for its clients, particularly enterprise-level companies with distinct and highly complex product requests.
The adoption of SAFe as a collaborative software development approach sets MAS Global Consulting apart by ratifying its commitment to excellence and a willingness to adapt as technology and client demands evolve over time.
About MAS Global Consulting
MAS Global Consulting is a US-based software development consulting firm with nearshore development hubs in Latin America, specializing in Agile transformations, digital modernization of legacy systems, cloud architecture, mobile applications, machine learning, AI, and Big Data, among other technology solutions. The company is ranked as a 2018 and 2019 Inc. 5000 enterprise by Inc. Magazine, is a Scaled Agile Bronze Partner, a certified Women and Minority Business Enterprise, and a WeConnect International Company. MAS Global Consulting continues to grow through the delivery of high value across many industries and countries.
For more information about the company and its services, visit https://www.masglobalconsulting.com.
For more information about CEO Monica Hernandez, visit https://www.linkedin.com/in/monicamhernandez
For more news about MAS Global Consulting, follow their https://www.linkedin.com/company/mas-global-consulting
Instagram/Twitter: @MASGlobalCo