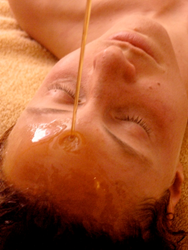 Santiago de Chile, Chile (PRWEB) April 25, 2014
Ayurvedic massage (abhyanga) are now offered in Santiago de Chile with Rodrigo Herrera.
Ayurveda is a health system that originated in India about 5,000 years ago. Its principles are applicable in the life of every individual. Holistic in nature, it integrates all facets of human life, seeking to harmony, peace and longevity.
Ayurveda is based on the five elements (Ether, Air, Water, Fire, Earth), the Tridoshas (active biological energies), the seven dhatus (body tissues), three malas (urine, feces, sweat) and the awareness of body, mind and spirit.
The word Ayurveda is a Sanskrit term meaning "science of life". (Ayur: life or routine; Veda: knowledge). Ayurveda helps to maintain health and restore health which results in promoting health, happiness and personal development.
Darśana means deep search, investigation or reasoning about the essential nature, as well as the state of being. Darśana also means vision, hunting, observation. It is the principle that leads to an unalterable state of balance, bliss and peace. In Darsana Ayurveda and Yoga, practitioners work to support each person in search of physical, mental, emotional and spiritual balance through Ayurveda and Yoga.
Rodrigo Herrera is a hatha yoga instructor of the Chilean Academy of Yoga. Since 2010, he began to study and improve in Iyengar Yoga with Claudia Palma. He began his studies with the Escuela de Ayurveda de California in 2012 . He has a degree in Ayurvedic Medicine with specialization in Ayuryoga and is an Ayurvedic Health Educator. He is a certified therapist from Escuela de Ayurveda de California, trained in Bliss Therapies, Ayurvedic Massage Ayurvedic Facials in Bogotá, Colombia. He continues his studies with José María Vigar Iyengar in Chile, combining his knowledge of Yoga and Ayurveda.
Besides his passion for Ayurveda, Rodrigo is a composer, musical performer and music teacher. He is certified to work with children between 6 and 12 years under the Montessori system. He has recorded and accompanied many Chilean artists as well as teaching music and Yoga.
For more information, please call (02) 2884 7941 or visit http:/http://www.darsana.cl.
The Escuela de Ayurveda de California offers a variety of certified courses in Ayurvedic massage, faciales and other therapies in Chile. For more details, please visit http://www.escuelaayurveda.com.