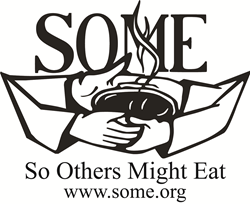 "Since 2019, it's been a privilege to partner with SOME because they do such a great job serving the less fortunate to help break the cycle of poverty" - Sid and Ann Mashburn
WASHINGTON (PRWEB) November 01, 2021
Back for 2021, the SID + ANN MASHBURN holiday Shop for Hunger Card event will run Oct. 29 – Nov. 6, 2021. During this exciting, week-long event, in-store shoppers who make a one-time $60 donation to SOME (So Others Might Eat) at the SID + ANN MASHBURN stores in Georgetown will receive 20% off their in-store purchases.
SOME, an interfaith, community-based service organization that serves DC neighbors experiencing homelessness and poverty, has been the SID + ANN MASHBURN nonprofit partner since 2019. Funds raised from the Shop for Hunger Card benefit SOME's provision of daily emergency services, affordable housing, counseling, substance use disorder treatment, job training and other crucial services.
"After so many months apart during COVID-19, we are delighted that we can return to in-person holiday events like the Shop for Hunger," said Ralph Boyd, SOME President and CEO. "We love partnering with retailers like MASHBURN to reach our existing donors in meaningful ways and introduce new donors to our lifesaving work. Our donors are always looking for opportunities to support SOME with their time, talent or treasure, and MASHBURN offers a creative way to reward donors for their good works."
"Through the years we've really enjoyed participating in charity shopping weeks in our Atlanta, Houston and Dallas markets. Part of our company's goal is to lift boats around us, and we've found these not only lift the community, but they help customers, and are good for our team's morale (and our business) in the process," said Sid and Ann Mashburn. "Since 2019, it's been a privilege to partner with SOME because they do such a great job serving the less fortunate to help break the cycle of poverty. Talk about something that is easy to get behind! We hope in the future other retailers and merchants can come alongside us to build on the great foundation SOME has already established"
The 2021 MASHBURN Shop for Hunger Card is only available for purchase on-site via QR code at the Georgetown boutiques between Oct. 29 and Nov. 6. The minimum donation to be eligible for the 20% discount is $60 and purchases must be made in store between Oct. 29 and Nov. 6 as well. Exclusions to the discount apply.
About SID + ANN MASHBURN
After spending their career in fashion – Sid, as a Designer for J.Crew, Ralph Lauren and Lands' End, and Ann, as a Fashion Editor for Conde Nast – the couple & their five daughters moved to Atlanta in 2007, and opened a single men's shop, SID MASHBURN on the West Side of Atlanta. The concept was simple: a combination of Sid's own designed-and-produced tailored clothing, sportswear, footwear, and accessories, with a direct-to-consumer business model, all in a space designed to feel as welcoming as possible. In 2010, they expanded the business with ANN MASHBURN, a full women's line and shop, followed by the launch of e-commerce sites in 2011 to serve the brand's ever-expanding customer base outside of Atlanta. Since then the couple have opened shops in Houston, Georgetown, Washington, D.C. and Dallas, and expanded to the West Coast with a men's-only shop in Los Angeles. Learn more at sidmashburn.com and annmashburn.com.
About SOME
SOME provides material aid and comfort to our vulnerable neighbors in the District, helping them break the cycle of poverty and homelessness through programs and services that save lives, improve lives and help transform lives of individuals and families, their communities and the systems and structures that affect them. Learn more at https://some.org.