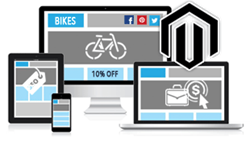 Boston Magento Developer Offers Booking and Reservation System for Magento E-Commerce
Boston, MA (PRWEB) June 30, 2014
Sales Secret LLC, a Boston Magento Developer, is excited to offer e-commerce website vendors the ability to manage a fully featured Booking and Reservation system within Magento.
Magento Booking and Reservation Extension Features Include:

Multiple pricing rules to maximize business opportunities
Set flexible price rules: the option for setting different prices for different - days, different times and different types/variants of the same product
Offer gradual/ staggered pricing (increasing or decreasing): good for those who wish to increase or reduce prices nearer to the actual occurrence of an event.
Promote booking\reservation products by pricing items differently when higher quantities are purchased.
Flexible booking/reservation options to suit different businesses
Flexible "exclude days" rules: Similar to 'blackout' days with airlines, prevent bookings/reservations for certain dates
Option to set billable periods by "day" or "hours": makes this extension suitable for date-time-date and time-based products, e.g. hotel room/consulting attendance/rental products
Set available times for bookings and reservations, e.g. reservations can be made only from 8:00 AM - 6:00 PM
Specify date and time period of product availability, making this extension useful for products that are available for limited time periods such as a particular play or movie
Allow multiple reservations for the same time based on available quantity of the bookable product: for example, a car wash with 3 boxes could allow 3 reservations in the same time slot
AJAX support
Dynamically changing price with AJAX while changing reserved period at frontend
AJAX calendar loading and navigation
AJAX Cart Pro 2.x extension by aheadWorks support
Useful and user-friendly interface for customers and administrators include:
Admin

Integrated admin interface covers new "booking" tab when editing a product, orders overview page, orders overview calendar widget
Ability to switch off shipping per product
Instant orders review on the product edit page using the calendar widget; also has a separate orders page with all bookings and reservations
Booking period is displayed in Order details and invoice
Ability to specify how many days the booked item is kept in abandoned cart
Ability to define the number of calendar pages displayed on the product page
Customers / Site visitors

Integrated customer interface offers visual calendar and busy/free time periods for easy ordering; customer can also view their bookings and reservations on an "orders view" page
See booking/ reservation details in the shopping cart before placing the order
Check the reserved period in the recieved invoice
"Live" price change while changing custom options
Booked period is shown as unavailable for another reserving to the customer even if he/she hasn't checked it out
"Through planning, efficient coding, relentless implementation, and data analysis, we have been changing the face of e-marketing", stated Robert Hadland, Sales Secret LLC representative. "Now with this Booking and Reservation extension for Magento, the game has been taken to an entirely different level."
Sales Secret offers their prospective customers six ways to ignite their sales:
Segment marketing efforts
Optimize for mobile engagement
Build relationships with customers
Localize whenever possible
Act on analytics and available metrics
Cultivate useful loyalty programs
Utilizing tools such as Magento e-commerce website development, custom Magento extension development, Magento Business Intelligence Dashboard integration, and Magento SEO services; Sales Secret has been serving their customers marketing and development needs to increase their sales and profitability.
For more information, visit http://www.salessecret.com/massachusetts/boston-magento-developer.html or call 888 553-9113.