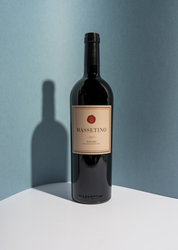 "It seems to be a natural development for the Masseto Estate to produce a 'second vin' and the 2017 vintage proved to be the right time to do it. The new winery provides us with the right environment to pursue this new project" - Giovanni Geddes, CEO of Masseto
NEW YORK (PRWEB) June 27, 2019
Masseto, Italy's most collectible estate, is proud to announce the release of Massetino, the 'second vin' of Masseto. Massetino will launch with the 2017 vintage in October and will be available to select accounts in Italy and the US during its first vintage release.
"Massetino comes from a strict selection from the estate vineyards made during blending," says Axel Heinz, Estate Director of Masseto.
The 2017 vintage was hot and dry, requiring a very accurate selection. Less Masseto was produced and it was considered the right moment to bottle Massetino.
Giovanni Geddes, CEO of Masseto notes: "It seems to be a natural development for the Masseto Estate to produce a 'second vin' and the 2017 vintage proved to be the right time to do it. It is an exciting moment for the Masseto Estate and the new winery provides us with the right environment to pursue this new project."
2017 will be remembered as one of the hottest and driest vintages in recent history. Due to an unusually mild winter with temperatures 3°C above average, budbreak occurred two weeks earlier than usual. Apart from a brief period of cold weather towards the end of April, the entire growing season was dominated by warm and dry weather, leading to a reduced development of the canopy. In consequence, Massetino 2017 represents the characteristics of this vintage: dark in color, with rich and ripe aromatics, dominated by ripe plums and blackberries. The palate is broad and rich, with a remarkable freshness and firmness of structure.
Only a very limited number of bottles have been produced in this first vintage.
About Masseto - http://www.masseto.com
Masseto, located on the Tuscan coast close to the small hamlet of Bolgheri, is a wine that was never meant to exist. The potential of the slope where the vineyard now sits was finally seen at the beginning of the 1980's, when, against all odds, advice and local tradition, the first vines were planted. Intuition paid off.
The blue clay, cooling coastal breezes and abundant refracted light from the Tyrrhenian Sea all contribute to Masseto's intriguing combination of power, elegance, and complexity. Masseto has received international acclaim since its birth in 1986.
This April, Masseto has inaugurated its "home", a wine cellar designed by the architects ZitoMori. Carved into the ancient blue clay that underpins the vineyard, the Masseto winery is a physical and symbolic tribute to the Estate's history and rapid evolution from an intuition about the hidden potential of a vineyard site, to internationally acclaimed wine.
The Masseto estate is part of the group controlled by the Frescobaldi Family.