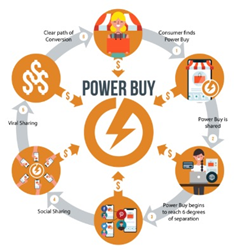 MassGenie's unique Power Buy technology benefits brands and retailers with significant savings in Internet marketing costs while simultaneously driving customer traffic and brand awareness
IRVINE, Calif. (PRWEB) October 22, 2019
MassGenie has demonstrated the success of its patent-pending Power Buy concept and technology on its own marketplace (https://www.massgenie.com/). This unique technology benefits brands and retailers with significant savings in Internet marketing costs while simultaneously driving customer traffic and brand awareness. The Power Buy also leverages social media by allowing its users to purchase directly from the "social sharing experience" and instantly capturing revenue at each degree of separation.
The success of MassGenie is best evidenced by the latest growth figures. At its inception in 2017, MassGenie generated $311K in GMV (Gross Merchant Volume). In 2018, MassGenie realized a 1392% ($4.6 million) increase in GMV. In the first half of 2019 MassGenie once again has proven its worth with an 1105% GMV increase to $7.7 million from $639K in the first half of 2018.
In early Q1 2020, MassGenie will be extending its Power Buy technology as a SaaS offering for brands and retailers who are on Shopify or Magento. The Power Buy will be available on both the Shopify and Magento marketplaces as a downloadable app or extension.
In preparation for the upcoming SaaS launch in early Q1 2020, MassGenie has also launched a Partner Beta Program and will begin offering three (3) months free service to the first 100 brands and retailers that join the partner beta program. To learn more about how MassGenie's beta program can help your business, visit https://www.massgenie.com/PowerBuySaaS
About MassGenie
MassGenie's vision is to redefine the online marketplace experience by introducing a new way to shop online. MassGenie's Power Buys are short-term, volume-based offers where buyers can leverage their social media presence to crowdsource demand. MassGenie was founded and is led by veterans in the e-commerce, marketplace and software industries. To learn more about MassGenie, visit https://www.massgenie.com/