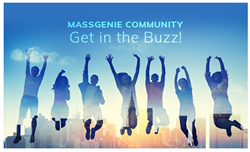 MassGenie continues to change the way consumers shop online in the US, similar to what Pinduoduo did in China
COSTA MESA, Calif. (PRWEB) April 02, 2019
MassGenie announced today that its gross merchant volume (GMV) in Q1 2019 was $3.3 million, which was a 3,034% increase compared to Q1 2018. Social sharing website visitors during the same period increased by 9,064% and GMV as a result from social sharing increased by 27,258%. 29% of GMV was driven by social, viral & free advertising in Q1 2019 compared to 22% in Q4 2018 & 16% in Q4 2018.
"We could not be more pleased to how consistently and rapidly our GMV and social sharing numbers have been growing since early 2018," said Dan DeVries, President of MassGenie.
"When we first launched, we had to focus on paid advertising to create and grow our customer base. We are now pivoting our focus to free advertising, driven by social sharing'" added DeVries. "Over the last few months, we have added a lot of functionality to the site to encourage and drive social sharing. We are currently in the process of rolling out our new social sharing community. With all of the new functionality, we have a plan in place to increase GMV driven by social, viral & free advertising to 50% by July 2019."
"We are also rapidly expanding our product mix as well," DeVries stated. "When we first launched, we had huge success in electronics and video games and we are currently expanding into other categories including fashion, health/beauty & home/outdoors. By the end of Q1, we were already seeing progress. Non-electronics and video games categories accounted for 29% of total orders last month, March 2019."
About MassGenie
MassGenie is a unique online social shopping marketplace site, which combines the power of social sharing and e-commerce. MassGenie's Power Deals are short-term, volume-based offers where buyers can leverage their social media presence to crowdsource demand. Follow MassGenie on Facebook, Instagram, Twitter, LinkedIn and YouTube. MassGenie was founded and is led by veterans in the ecommerce, marketplace and software industries. To learn more about MassGenie, visit https://www.massgenie.com/.