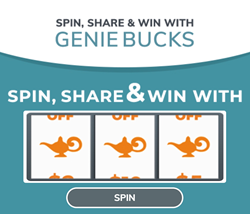 Genie Bucks incentivizes customers for social shopping
IRVINE, Calif. (PRWEB) August 28, 2018
MassGenie announced today that it has launched Genie Bucks, which enhances the social shopping experience on their platform. Anybody can go to MassGenie to spin and win Genie Bucks for sharing a Power Deal with each of their friends that join a Power Deal.
Customers can share a Power Deal with their family, friends and associates through Facebook, Twitter, Pinterest or email. When their friends join a Power Deal, they will also win Genie Bucks.
"With Genie Bucks, we continue the fusion of gaming with social media and ecommerce," said Dan DeVries, COO of MassGenie. "We are rewarding our loyal customers for crowd sharing our incredible Power Deals. We plan to continue to enhance the Genie Bucks program as we get feedback from our customers."
MassGenie also has completed its integration with the ChannelSale platform. ChannelSale equips online sellers and retailers with cutting-edge, powerful software solutions and expert services for creating and syncing product listings, inventory and orders across Amazon, eBay, Walmart and other marketplaces.
MassGenie's integration with ChannelSale provides a new outlet for marketplace sellers, allowing them to broaden their reach by easily exposing their catalog of products to MassGenie's Power Deal customers.
MassGenie launched in mid-2017 with a vision to drive social shopping. The site now has over 2.3 million products and over 30,000 brands. In August there will be over 300,000 visitors to the site.
About MassGenie
MassGenie is a unique online crowd shopping marketplace site, which combines the power of crowdsourcing and ecommerce. MassGenie is based in Irvine, CA. Follow MassGenie on Facebook, Instagram, Twitter and LinkedIn. MassGenie was founded and is led by veterans in the ecommerce and software industries. To learn more about MassGenie, visit http://www.massgenie.com.
For any investor relation inquires or questions, please contact ir(at)massgenie(dot)com for more information.