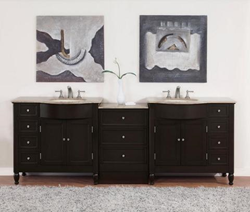 Silkroad Exclusive's largest vanities are sold in a modular configuration, meaning they can be shipped and moved through doors and up stairs in smaller, lighter, more manageable pieces.
(PRWEB) November 25, 2013
HomeThangs.com – the Online Home Improvement Store has made their goal to deliver the right product to the consumer. With that in mind, shopping and home design tips, as well as special product selections are being introduced.
When furnishing a very large bathroom, the options for pre-made bathroom vanities can be even more limited than those for a very small bathroom. There are a few different reasons for this, from challenges with shipping and installation to the simple fact that more people have small bathrooms than very large ones. But it is possible to find vanities that are large enough to stand up to a big bathroom without the headache of having one custom built. HomeThangs.com has introduced a guide to a few top bathroom vanity brands that specialize in very large vanities.
Silkroad Exclusive is probably the best bathroom vanity brand for a very large bathroom, with vanities that soar upwards of 90″ – much larger than most conventional brands. Most of their vanities are fairly traditional in style, though they do have a few more modern offerings. But where Silkroad really shines is that they address one of the biggest problems of buying a large, pre-made bathroom vanity: they make their vanities easy to install. Their largest vanities are sold in a modular configuration, meaning they can be shipped and moved through doors and upstairs in pieces and installed into a single unit like more conventional cabinetry.
James Martin Furniture's largest bathroom vanities clock in at about 72″. Now, there are other brands on this list that offer bigger vanities, but James Martin offers a nice mix of antique, contemporary, and modern style vanities designed with a master bathroom in mind. All their vanities are made of solid wood with beautiful finishes, stone vanity tops, and many even have gorgeous decorative sinks. Plus, all their vanities include matching mirrors and storage cabinets, meaning there's a little extra furniture to round out a very large bathroom, even if the vanity itself only clocks in at about six feet wide.
Similarly, Direct Vanity's bathroom vanities are a dream come true for a contemporary master bathroom. Though most of their vanities hover in that same six foot-or-so range, they offer some of the most popular designs for a luxury master bath. From picture perfect, spa-style open shelf bathroom vanities to a bevy of cottage and mission style pieces, Direct Vanity's bathroom furniture has the relaxed, casual look and feel that's so popular right now. Plus, though they only have a few offerings that top the seven foot mark, the ones that do have a modular, easy-to-install design.
Design Element offers the most modern styles of any bathroom vanity brand on this list, specializing in sleek, minimalist vanities made with a dark finish and shiny chrome and tempered glass accents. Most of their large double vanities hover in the 72″ range, but they also offer several in the 90″ inch range, many of them modular in design. Of any of the brands listed here, Design Element offers among the best storage options, with a specific eye toward maximizing drawer space and compartmentalizing cabinets to make them more accessible and efficient.
Finally, Sagehill Designs is a bathroom vanity brand that makes this list almost entirely by virtue of their semi-custom cabinetry. You see, Sagehill Designs is best known for their vanities in the 24"-48" range, but a handful of their most popular styles can be totally customized. They still have the same beautiful finish and decorative woodwork, but have different cabinet pieces, drawers, and bridges that can be mixed and matched. These pieces arrive and are installed individually like custom cabinetry, and can be used to create huge, sprawling cabinet sets upwards of 120″, much larger than any other kind of premade bathroom vanity.
For a more in-depth look at each of these great bathroom vanity brands, check out a full version of the article here.
HomeThangs.com is not only a home improvement superstore, it also provides expert design tips and a comprehensive shopping guide, taking the ideas from professional interior designers, and offering tips to the consumers on how to pick the products to best suit their needs.