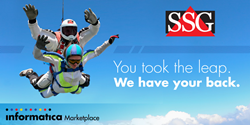 SSG takes the time to discover real data integration needs as they apply to their clients' broader business objectives.
Dallas, Texas (PRWEB) January 14, 2015
SSG, a premier software professional services company focused on providing Oracle BRM solutions and Informatica data management solutions, today announced new service listings on the Informatica Marketplace, an open ecosystem for data integration applications.
SSG's new service listings include baseline deployment packages for Data Quality, Test Data Management and Master Data Management. Each service package includes product installation and configuration, but more importantly, long-term reuse strategy and extensive knowledge transfer to integration teams from one of SSG's senior consultants.
"The Informatica Marketplace is a hub for partner-developed applications that support all phases of the data integration lifecycle," said Scott Geffre, vice president, Informatica Marketplace. "SSG takes the time to discover real data integration needs as they apply to their clients' broader business objectives. The high level of knowledge transfer that SSG provides with its packaged solutions makes SSG an exemplary Marketplace partner."
With a user base of more than 125,000 across the globe, the Informatica Marketplace is the ideal platform to provide data integration and management solutions, including SSG's other PowerCenter baseline deployment packages.
"The Informatica Marketplace enhances our ability to provide clients with smooth project deployments," said Paul Scott, director of professional services for SSG's data management practice. "Our package listings provide a special added value that allows our clients to extend their Informatica Platform investment and functionality throughout their data integration initiatives."
About SSG
Founded in 1997, SSG, Ltd. is a Dallas-based Oracle Gold Business Partner and Informatica Channel and Consulting Partner specializing in Billing and Revenue Management (Oracle BRM) and Data Management (Informatica Platform). As a premier software professional services firm, SSG specializes in building trust-based relationships and solving complex problems in business-critical applications for our clients. The ideal SSG client has made significant investments in technology and values a partner they can depend on to bring a depth of experience and solve their technology challenges the first time. SSG prides itself on providing the highest quality service to its clients with an unrivaled level of professional integrity, and is also proud to have been named one of the Dallas Business Journal "Best Places to Work" for three consecutive years.
Note: Informatica, the Informatica Marketplace, Informatica Platform and PowerCenter are trademarks or registered trademarks of Informatica Corporation in the United States and in jurisdictions throughout the world. All other company and product names may be trade names or trademarks of their respective owners.