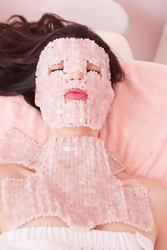 Skincare trailblazer and Master Facialist to a client roster that includes Sting, Helena Christensen, Minnie Driver and Erin and Sarah Foster, Parisian trained esthetician Angela Caglia adds another heavenly spa service to her repertoire of coveted spa experiences
LOS ANGELES (PRWEB) December 07, 2018
Skincare trailblazer and Master Facialist to a client roster that includes Sting, Helena Christensen, Minnie Driver and Erin and Sarah Foster, Parisian trained esthetician Angela Caglia adds another heavenly spa service to her repertoire of coveted spa experiences. Creating custom formulations to help clients attain breathtakingly radiant skin fueled Angela's passion to create her own luxury skincare line. The recently launched Angela Caglia® collection of small-batched, highly active natural skincare can already be found globally in luxury retailers Saks Fifth Avenue, Neiman Marcus, NET-A-PORTER, and SpaceNK.
Her Rose Quartz Goddess Facial is the epitome of luxury and a treatment experience like no other. Clients relish in a cocoon of rose quartz love stones designed by Angela herself and receive a collection of state-of-the-art skin treatments performed in the tranquil oasis of the Angela Caglia Skin Spa located in Bel Air, California. Pampered with an array of products from the Angela Caglia® Skincare collection, clients experience the luxury line of responsibly sourced and small-batched naturals first hand.
This 80-minute Rose Quartz Goddess Facial escape pulls out all the stops to grant clients with an otherworldly complexion. Like all Angela Caglia treatments, this facial begins with a detailed skin analysis to target problem areas and overall skin health and needs. The long list of treatments to follow include face reflexology, gua sha, LED lights, micro-photo treatment, micro current treatment, Angela's signature customized peel and ultrasonic and oxygen infusion.
No Angela Caglia facial is complete without a French-style face, neck and décolleté massage and a rose quartz self-love amplifying experience. From Angela's Dual Rose Quartz Crystal Massage to her custom designed and hand beaded Rose Quartz Goddess Mask, the soothing and nurturing power of rose quartz infuses the body, mind and spirit with love, compassion and relaxation. Angela's final step infuses the skin with a proprietary blend of efficacious botanicals including her hero ingredient Meadowfoam Seed Oil, for the ultimate lifted, hydrated, and dewy complexion.
Angela Caglia's 24-year expertise as a Parisian trained esthetician will not only be your quick fix, but a long-term solution to a healthy glow.
PRICE & AVAILABILITY: $550 for the 80-minute appointment. Available at the Angela Caglia Skin Spa in Bel Air, CA and select pop-up locations.
ABOUT ANGELA CAGLIA® (@angelacagliaskincare)
Named by WWD/BeautyInc as one of 2017's "Skin Care's Rising Stars," Angela Caglia is a leading celebrity esthetician, skincare trailblazer and anti-aging pioneer. Her innovative yet natural approach to beauty was inspired by two decades of experience, from formal training with celebrated French anti-aging experts, to perfecting her craft at the most acclaimed spas in New York City and Los Angeles.
Calling her Bel Air, California flagship spa home, her facials have become the secret weapon of myriad A-list celebrities who refer to her as "Hollywood Glow Girl". Now, Angela Caglia® Skincare empowers everyone to achieve the coveted glow of celebrity skin at home. Her eco-luxe line meticulously blends powerful natural ingredients for age-defying results and can be found at NET-A-PORTER, Neiman Marcus, Saks, Violet Grey, SpaceNK, Dermstore, Anthropology, Mecca and Revolve.
http://www.angelacaglia.com | http://www.Instagram.com/angelacagliaskincare | http://www.facebook.com/angelacagliaskincare | http://www.twitter.com/acagliaskincare
#likeafacialist
#smileyouareglowing
PRESS CONTACT:
pr@angelacaglia.com