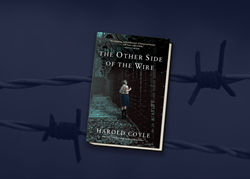 CHICAGO (PRWEB) June 18, 2020
Master Wings Publishing is excited to announce the launch of a new publication, The Other Side of the Wire. In this intriguing fictional novel, Harold William "H.W." Coyle delivers a thought-provoking piece of work that not only tells an empathetic coming of age story, but also delivers on Coyle's thorough research of the time period.
In The Other Side of the Wire, Coyle continues a tradition of gripping historical fiction with the story of Hannah, an orphaned Jewish child, who to escape religious persecution disguises her gender and religion and is taken in by a high-ranking Nazi family. The main character struggles with internal and external acceptance, but in the end ultimately and incredibly acts for herself and for the betterment of the world around her.
Delving into the many societal implications during that time, Coyle provides both social and historical insight to an area that has received little attention. With war, religion, gender, survival, and family issues at the heart of the story, this novel is both topical and relevant.
"My story is inspired by the true life of Solomon Perel, an orphaned Jewish-German boy who fled Nazi persecution by becoming a member of the Hitler Youth," says author Harold Coyle. "It is a story recounted in his book I Was Hitler Youth and depicted in the movie Europa, Europa. The book Hansi: The Girl Who Loved the Swastika, by Mari Anne Hinschmann, recounts Hinschmann's experience in the early 1940s and provided me with the insight into what life was like for a young girl coming of age under the Nazi regime."
Coyle is an American writer and author of historical, speculative fiction and war novels including The Ten Thousand, Trial by Fire, Team Yankee, and Bright Star, all New York Times best-sellers. His interest and unique ability in this fiction category stems from experience serving in Germany from January 1975 to December 1979. During this time, Coyle served as a tank platoon leader, tank company executive officer, assistant battalion operations officer, and commanded Company A 3rd Battalion 68th Armor.
The Other Side of the Wire can be purchased on Amazon here.
###
About Master Wings Publishing
Master Wings Publishing, a brand under TAWANI Enterprises, dedicates itself to the creation and promotion of exceptional stories that inspire, educate, and last. Publications under the Master Wings brand draw from a variety of genres and consistently elevate individuals and institutions to provide not only entertainment but also unique insight. For more information, visit http://www.masterwingspublishing.com
About TAWANI Enterprises
A visionary umbrella organization with an entrepreneurial outlook, TAWANI Enterprises seeks to make private investments that connect people to the history in their midst and create opportunities for growth and knowledge, while forging stronger, healthier communities. The company represents a diversified portfolio of brands including TAWANI Property Management, TAWANI Property Development, the Pritzker Military Museum & Library, TAWANI Foundation, Pritzker Military Foundation, Master Wings Publishing, and Aurum Trading, a gold coin trading market maker. Properties under the TAWANI Property Management Hospitality division include Lang House Chicago, The Emil Bach House, Mayne Stage and The Lincoln Way Inn, all of which are thoughtfully designed lodging and event spaces. For more information, visit http://www.tawanienterprises.com.