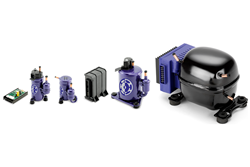 "Expanding our own compressor technology and experience into our new BTMS systems, will result in high performance BTMS and a lot of value to the customers."
ANN ARBOR, Mich. (PRWEB) September 13, 2021
Masterflux, a Tecumseh brand and one of the original developers of DC-powered, variable capacity cooling compressors, is introducing a "Masterflux eBTMS (electric Battery Thermal Management System)" platform for electrified vehicle (EV) applications at Electric & Hybrid Vehicle Technology Expo in MI, USA, on September 14th (Booth Number 628).
Masterflux eBTMS is a compact, light, highly efficient platform optimized for increasing needs of cooling in EVs so batteries and other components operate efficiently and are protected from overheating.
Masterflux brand was started in 2004 by Tecumseh Products Company, a nearly 90 year old inventor of hermetic refrigeration compressors. Doug Murdock, the CEO of Tecumseh, said, "we have applied our extensive refrigeration and cooling expertise to develop innovative Masterflux technology. We have also developed Masterflux as a differentiated and distinguished electric compressor line from Tecumseh's widely-known refrigeration compressors."
In contrast to Tecumseh's reciprocating compressors that are powered by alternate current and mainly used in stationary applications such as food retail and food service equipment, Masterflux compressors are hermetically sealed, variable speed rotary compressors powered by direct current. Compared to reciprocating compressors, Masterflux rotary compressors are more immune to mechanical shock and vibration. In addition, Masterflux compressors provide high capacity in smaller and lighter package. As a result, Masterflux compressors are specifically intended for mobile applications.
Murdock said, "for over a decade, Masterflux compressors have been used by global OEMs in automotive, defense, medical, and a number of emerging mobile cooling applications. We are very excited to expand our offerings into BTMS solutions in the rapidly growing EV market."
Robert Terry, the General Manager of Masterflux brand, said "Expanding our own compressor technology and experience into our new BTMS systems, will result in high performance BTMS and a lot of value to the customers."